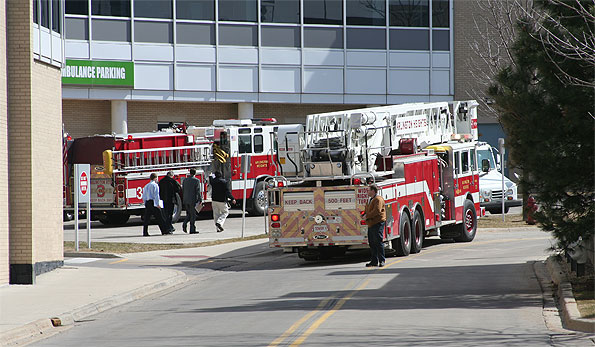 Arlington Heights Fire Department responded to a Northwest Community Hospital parking garage with a full extrication response and more, including a rescue squad, fire engine, tower ladder, rescue-ambulance, battalion chief, and a deputy chief.
Ramona A. Zentefis, 76, of Des Plaines was walking in a designated painted crosswalk for pedestrians toward the Busse Center for Specialty Medicine when she was struck by a red Chrysler minivan driven by a 59-year-old Mount Prospect resident.

Arlington Heights police and firefighter/paramedics responded just after 11:00 a.m. Wednesday to a report of a pedestrian struck by a vehicle at a parking garage at the Northwest Community Hospital campus.
Police arrived first within two minutes to discover a woman with traumatic injuries trapped under a red Chrysler minivan. Firefighter/paramedics arrived a minute after police and called for extra manpower to assist with extrication. Firefighters used specialized fire-rescue air bags, and Hillside Towing was also called to the scene to lift the minivan as part of the rescue attempt. The woman was treated while she was trapped under the car. An Arlington Heights Fire Department rescue-ambulance transported Ramona Zentefis to the Emergency Department were she was pronounced dead a short time later.
The location of the incident was on a first floor ramp of the entrance/exit to the Busse Center for Specialty Medicine parking garage, just across from the old emergency room entrance. The minivan was traveling up a first floor parking ramp. Northwest Community Hospital security personnel and hospital medical personnel also responded immediately to the scene.
An Arlington Heights police accident investigator worked at the scene — taking measurements and photographs. Part of the garage was blocked during the investigation. A security video of the incident was also used for the investigation. No criminal charges or citations have been issued, but the investigation is ongoing.