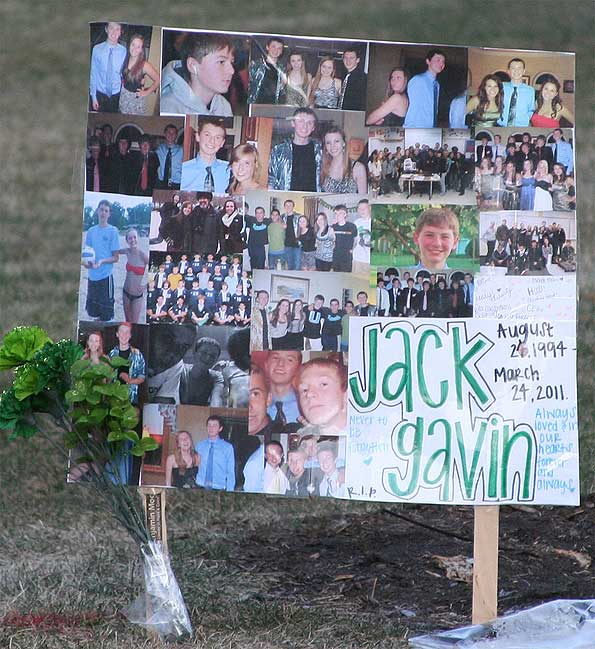 Jack Gavin photo montage at crash site memorial. More memorial photos …
Dear 'Jack'
They say — whoever 'they' are — that some of the worst accidents happen very close to home. And you were close to home. And you were doing nothing to deserve this. You were wearing your seat belt. You were living your life. You were on Spring Break.
By morning you were gone. Word spread very fast about your accident. Text messages, emails, Facebook, phone calls. People from suburbs all over Chicagoland and from states across the nation were aware of your passing just hours after you died.
No words can describe how overwhelming the emotions, and how strong the disbelief when the news hit your family, your best friends, and even neighbors or parents of friends that watched you grow up. There's one thing we all agree upon. You died too young. Make that two things: You were adored. Make that three things: The world is a less nice place without you in it, and those of us still here are going to have to make up for that.
In the following days your friends arrived to the scene where you died to show respect and honor your memory. They brought flowers, and candles, and green T-shirts, and letters, and photos. And it's the photos that made even people that didn't know you shed a tear or just plain cry. A beautiful smile, a friendly face … you are a person who knew how to enjoy life … how to make people comfortable. It was natural for people to like you … and love you … your parents, aunts and uncles, cousins, and best of friends.
Their faith that everything will be alright in the hands of God is strong in many of those that love you. But some will be in despair. Holidays will be hard to swallow. The sight of an empty chair, or something simple like a pair of your shoes will cause a crush of emotions. For many the pain will never go away. Years from now your friends will run into your brothers or your parents. One of your friends will look up at the next table at a restaurant and see your parents, and your friend will rush over to greet your parents. The pain will return, but there will be comfort, too, because the connection with you will be remembered. All of those that love you will want to stay connected with you. They will never forget you.
And how can they best stay connected to you 'Jack'? They can love life and smile like you did. Just like the perfect example you set.
Like the sign says,
We Love You Jack Always & Forever in Our Hearts
——–
John 'Jack' Gavin (born August 26, 1994) was killed from injuries he suffered in a car crash on Thursday, March 24, 2011.
Obituary …
Visitation was on Monday, March 28, from 3 to 9 p.m. at Lauterburg & Oehler Funeral Home, 2000 E. Northwest Highway, Arlington Heights. Prayers were said Tuesday, March 29, at 9:15 a.m. at the funeral home, then all proceeded to St. James Catholic Church, 831 N. Arlington Heights Road, Arlington Heights, for a funeral Mass at 10 a.m. Interment was in All Saints Cemetery, Des Plaines. In lieu of flowers, memorial donations to the "Jack Gavin Memorial Fund," c/o The Peoples Bank of Arlington Heights, P.O. Box 1550, Arlington Heights, IL 60006, would be greatly appreciated. For information. 847-253-5423 or lauterburgoehler.com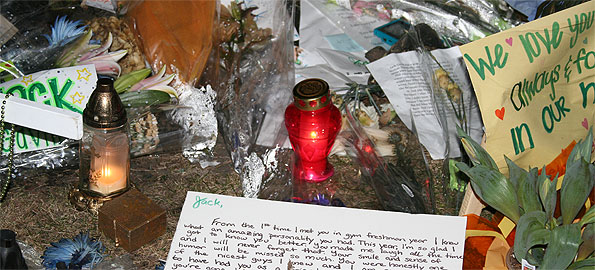 More memorial photos at the Windsor Drive site.