Bellmore EMT Justin Angell Shot by Crashed Gunman, Police Return Deadly Shots in Gunfight
Police on Long Island are investigating an incident in which a heavily armed man crashed his vehicle and then fired on emergency personnel, injuring an EMT. Police shot and killed the man, who they say was on his way to commit mass murder.
Bellmore firefighter/paramdics responded about 10:00 p.m. Tuesday to a report of a pickup truck crash into a utility pole on Bellmore Road. On arrival of the ambulance crew, at least eight shots were fired at the ambulance from an assault rifle. EMT Justin Angell was hit through the side of his abdomen and stomach. He retreated and collapsed on a lawn nearby. He was transported to Nassau University Medical Center where he was listed in stable condition.

At least three Nassau County police units were also on the scene, and police noticed they were being spotted with green laser sights by the gunman in the pickup truck during a gunfight. A police officer operating a K-9 unit, who was responding to provide assistance for accident management, quickly adjusted to the circumstances and returned fire and killed the gunman, identified as Jason Beller, 31. The incident lasted less than two minutes. In the aftermath, eight bullet holes were visible on the passenger door window of the truck, which had extensive front-end damage from the crash.
When police approached the downed gunman, they discovered he had an SKS 7 rifle strapped to his chest, extra ammunition inserted in elongated wristbands on his arms, a long barreled revolver on his lap, a semiautomatic pistol in his pocket, a Tech-9 within reach near the back seat, and two other weapons in the car. Police believe he was on his way to carry out a mass killing.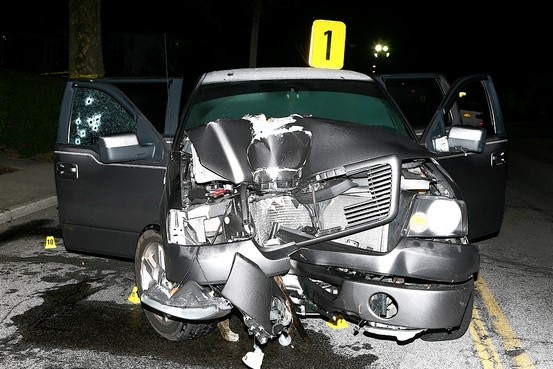 Crashed pickup truck with crime scene and accident investigation markers (Nassau Police Department photo).
The Ford pickup truck that Beller was driving had Florida license plates. Beller had an arrest record for petty larceny, but no previous arrests for violence.
Police believed a mass shooting was imminent.