After a bizarre rant on The Alex Jones radio show Thursday morning, Charlie Sheen called creator-executive producer Chuck Lorre a "charlatan" and a "turd" and would only refer to him by his "real name, Chaim Levine," CBS and Warner Bros TV decided to discontinue production of Two and a Half Men for the remainder of the season. About 250 people that work on the episode are out of work because of the fiasco.
Here's the interview from the Alex Jones show in three parts …

Alex Jones and Charlie Sheen unleashed. On 9/11 conspiracy questions he delivered to President Barack Obama. He says to 'B.O' (Barack Obama) how much faith can I possibly have in you to run this entire country when 20 questions from a high school dropout, sit-com actor appear to be too much to handle for you and your staff? It's like you've had almost two years to deal with this. I wrote them (the questions) in one hour. And it's like you sir are obviously a coward in a cheap suit.

Alex Jones discuss Apocalypse Now — the movie that Sheen says teaches you how to live inside a moment between a moment. "My motto now is you either love or you hate and you must do so violently."  … "I don't sleep, I wait."
Charlie Sheen: "I don't live in the middle anymore … that's where you get slaughtered … that's where you get embarrassed in front of the prom queen."
Sheen says nobody understands looking down the barrel of a gun anymore.
[The Cardinal: Not even U.S. soldiers in the Middle East?]

PART 3: Exclusive live interview with Sheen discussing, according to Sheen, exaggerations, misinformation and outright falsehoods about his life that have been whipped up by the establishment media in recent weeks. Sheen says in this segment that if he attacks the show, the show would be cancelled. Discussion with former Major League Baseball center fielder Lenny Dykstra.
Sheen's personal life has also made constant news cycle headlines recently, due to marital problems and recurrent stories about drug addiction and contact with prostitutes. But his criminal and questionable history goes way back.
Sheen and his then girlfriend, Paula Profit, had a daughter, Cassandra Jade Estevez (born December 12, 1984). In 1990, Sheen accidentally shot his then-fiancee, Kelly Preston (now married to John Travolta), in the arm, after which she ended the relationship. Sheen dated former pornographic actress Ginger Lynn for two years starting in 1990. He was also involved for a time with another former pornographic actress Heather Hunter. In 1995, Sheen married Donna Peele. He was named as one of many clients who visited brothels owned by Heidi Fleiss in her court case in 1995.
On May 20, 1998, Sheen tried injecting cocaine and allegedly accidentally overdosed. 
On June 15, 2002, he married actress Denise Richards, two years after meeting her on the set of Good Advice. They have two daughters, Sam J. Sheen (born March 9, 2004) and Lola Rose Sheen (born June 1, 2005). In March 2005, while she was still pregnant with their daughter Lola, Richards filed for divorce from Sheen, accusing Sheen of abusing drugs and alcohol and threatening her with violence.
On May 30, 2008, Sheen married Brooke Mueller, a real estate investor. This was the third marriage for Sheen and the first for Mueller. The couple's twins, Bob and Max, were born on March 14, 2009. Sheen was formally charged with felony menacing, and third-degree assault and criminal mischief, both misdemeanors.
On August 2, 2010, Charlie Sheen plead guilty to misdemeanor assault as part of a plea bargain where the other charges against him were dismissed. According Associated Press reporter Solomon Banda he was "sentenced to 30 days in a rehabilitation center, 30 days of probation, and 36 hours of anger management." He is prohibited from legally possessing a gun for the rest of his life.
On October 26, 2010, the NYPD officers removed Sheen from his suite at the Plaza Hotel after he had reportedly caused $7,000 in damage. According to the NYPD, he admitted to having been drinking and taking cocaine.
On November 1, 2010, Sheen filed for divorce from his third wife, Brooke Mueller.
On January 27, 2011, Sheen was transported to Cedars-Sinai Medical Center by paramedics after complaining of "severe abdominal pains"
Charlie Sheen's role on Two and a Half Men was loosely based on this image. Production on that series had been stopped twice due to Sheen's substance abuse, first in 2010 when Sheen entered a rehab facility, and again in January 2011 following his hospitalization and another stay in rehab.  On May 18, 2010, Sheen had signed an agreement to return to the Two and a Half Men for two more year years for a reported $1.8 million per episode.
Sheen is also known as a prominent advocate of the 9/11 Truth movement.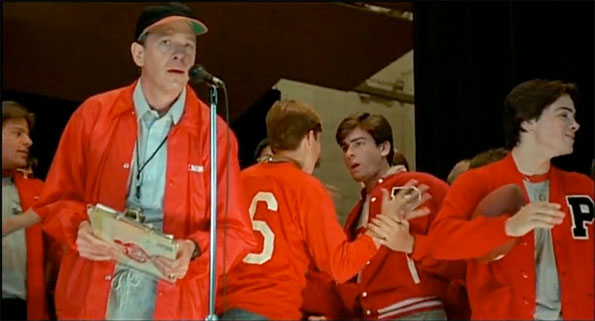 Charlie Sheen as 'Cappie' on stage at Grace Gymnasium at the former Arlington High School for the Pep Rally — an early scene of the film 'Lucas'.