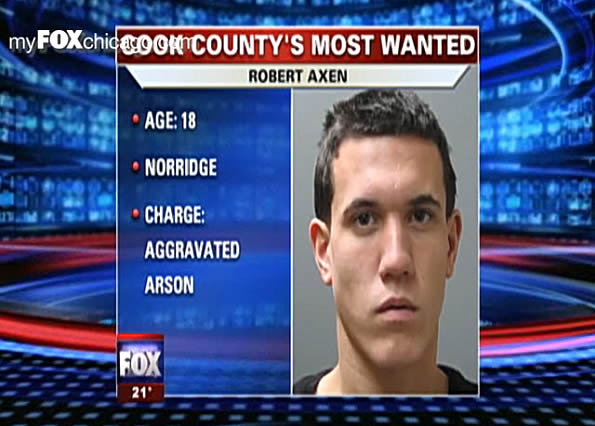 WANTED: Robert Axen for jumping bail to face charge of aggravated arson.
Cook County Sheriff' MOST WANTED: Call 708-865-4902 with information about this suspect.
Tom Dart: Cook County's Most Wanted Robert Axen, Chinzorig Tsogoo: MyFoxCHICAGO.com Fugitive Friday
A warrant has been issued for the arrest of Bobby Axen after he failed to appear in court on December 28th, 2010 to face charge of aggravated arson.
On June 17, 2010, while at the home of his parents on the 4500 block of North Oriole Avenue, Axen became belligerent. Bobby Axen demanded his father's car keys, and when his father refused, he threatened to harm everybody at the house. Axen's father left the house to call police from his cell phone. When Axen's father returned inside, he smelled smoke, and he saw Axen coming up the basement stairs and flee the house. When Axen's father went downstairs, the basement was on fire. He was unable to put out the flames with a hose from the sink, and ran upstairs to wake two other family members in the home. All family members were able to evacuate the house. Norridge firefighters responded and were able to knock down the fire. Later fire investigators identified four separate locations where Axen set fires in the basement. The basement ceiling was charred and the entire house had smoke damage.

View Chicagoland and Worldwide Crime Notebook Map in a larger map
Neighborhood view of the 4500 block of Oriole Avenue in Norridge.
Norridge police alerted area police departments about 6:20 a.m. Thursday, June 17, 2010 of suspect, Bobby Axen, who fled an aggravated arson crime and stolen a silver Honda Accord from the 4500 block of Oriole, near Ridgewood High School, in Norridge just after 4:00 a.m. Thursday. After the arson, Axen fled in the Honda. There is conflicting information about whether he stole the Honda before the arson fire, or carjacked the Honda after asking a woman for a ride after the arson.
The suspect, Bobby Axen, was described as a male/white, about 18 years-old, wearing a gray tank top and black shorts. He was armed with a knife.
Fox News Chicago reported that later that same day, Axen carjacked a woman after asking her for a ride. Police were able to arrest Axen after tracking his cell phone.
Police spotted the car in Gilberts, Illiniois about 8:10 a.m. Thursday and arrested him shortly thereafter.

View Chicagoland and Worldwide Crime Notebook Map in a larger map