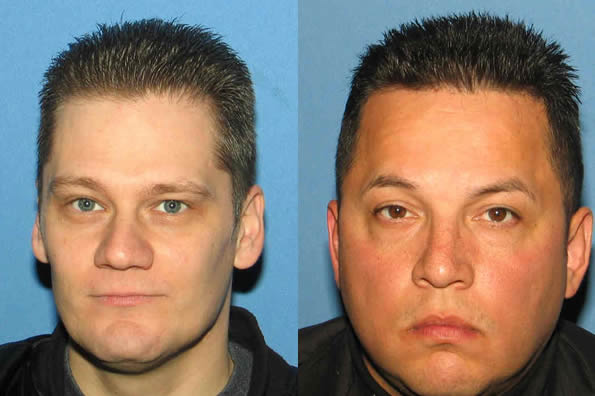 Cook County Sheriff's Deputies Edward Flory (left) and David Soto.
SHERIFF'S DEPUTIES RESCUE FOUR FROM BURNING BUILDING
Two sheriff's deputies, who rescued four people from a burning building in Chicago, are recovering at Little Company of Mary Hospital, Cook County Sheriff Thomas J. Dart announced Tuesday.

The two men, Deputy Sheriff David Soto and Deputy Sheriff Edward Flory were driving by the storefront building located at 115 E. 111th St. when they saw flames erupting. Soto and Flory forced entry into the common area of the two-story building, and began searching for residents in the apartments above. They found four people in one upstairs apartment, and escorted them out of the building. The deputies then re-entered the building, despite the second-floor blaze, to make sure no one else was inside.
The smoke and fire soon became too intense, and the deputies were forced to retreat from the building.
The Chicago Fire Department arrived on the scene shortly thereafter, at 11:48 a.m., with two fire engines, two fire trucks, and a rescue squad. CFD personnel were able to contain the blaze within an hour, while the Chicago Police Department secured the scene. No one else was found inside.
Deputies Soto and Flory were transported to Little Company of Mary Hospital by the Chicago Fire Department. Deputy Soto is being checked for back and neck injuries and labored breathing. Deputy Flory is being treated for smoke inhalation. Both remain hospitalized in good condition while undergoing routine medical checks.
At the time of the incident, the two men were in the process of serving orders of protection and warrants as part of their regular duties with the Cook County Sheriff's Office Warrants, Levies and Evictions Unit. Deputy Sheriff Soto has been with CCSO since 1991; Deputy Sheriff Flory has been with CCSO since 1997.