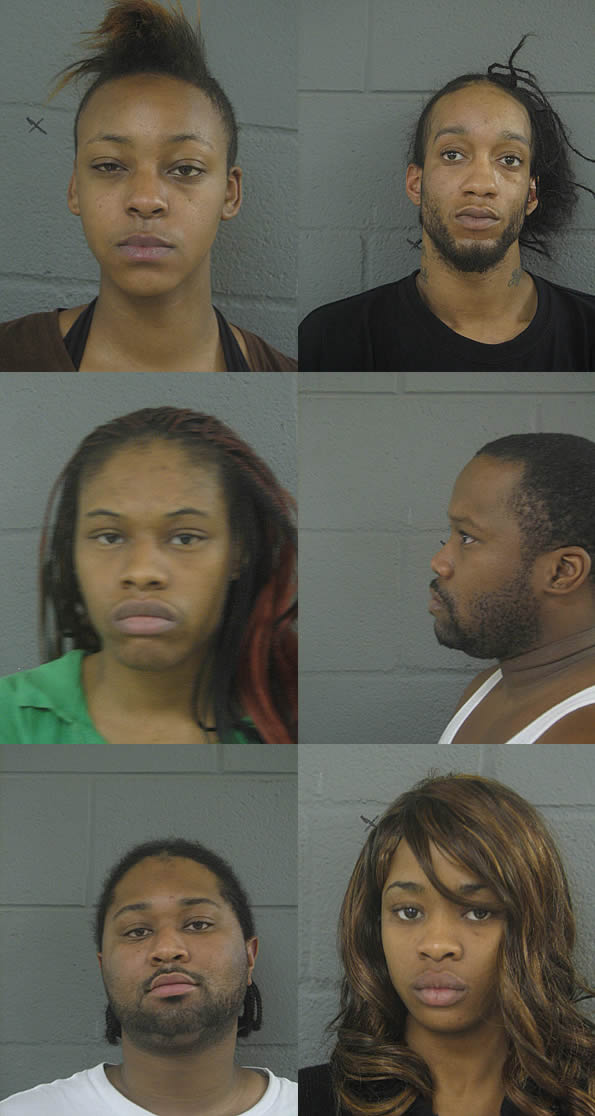 Dog fight suspects, left-to-right, top-to-bottom:
Aaliyah Jackson, Andre Gaines,
Ebony Jackson, Jonathan Holt,
Kevin Hicks, Tara Jackson
Seven men and women have been charged with felonies after police raided a Maywood dogfight in progress, Sheriff Tom Dart announced Monday.
Jonathan Holt, 28, of the 700 block of South 3rd Street in Maywood has been charged with dogfighting. Tara Jackson, 19, and Ebony Jackson, 21, both of the 2000 block of South 13th Street in Maywood; Kevin Hicks, 25, of the 2700 block of West Maypole in Chicago; Aaliyah Jackson, 18, of the 500 block of South 5th Street in Maywood; and Andre Gaines, 24, of the 1900 block of 5th Street in Maywood all have been charged with attending a dogfight. Gaines was also arrested on a Cook County warrant for weapons possession, aggravated assault and possession of a controlled substance.
On Thursday, December 30th, the Cook County Sheriff's Police Animal Crimes Unit was in the process of serving a search warrant for animal cruelty and neglect of owner's duties involving a pit bull. While conducting surveillance on the residence, located on the 700 block of South 3rd Avenue in Maywood, investigators observed a man entering the home with a different pit bull on a leash, and a number of additional people going into the home as well.
Minutes later, officers from the sheriff's police surrounded the home and executed the search warrant. Inside, police came upon a dogfight in progress, with the two pit bulls locked in battle on the basement floor of the home. After being forcibly separated, workers from the Animal Welfare League removed the two dogs and took them to their facility in Chicago Ridge for immediate veterinary care.
In total, seven people were arrested at the house. Bond has been set at $10,000 for Jonathan Holt, Ebony Jackson, Frederick Whitaker, Kevin Hicks, and Aaliyah Jackson. Tara Jackson received a $5,000 bond and Andre Gaines is being held without bond. The next court date for all six offenders is January 4th in Maywood.
Charges are pending for another man arrested at the dogfight who was hospitalized for an unrelated condition.