VIDEO WMAR-TV: Takoma Park Bank Robbery with offender shot and one police officer apparently shot in the right leg, as he is seen limping and helped to the curb at about 1:19 (abc2news.com).
Takoma Park police responded Friday morning to the Capital One Bank, 1181 University Blvd. to a report of a bank robbery in progress. Police arrived and discovered an offender holding a female hostage at gunpoint with one arm around her neck. Both the offender and the hostage were walking away from the bank, surrounded by police officers with their guns drawn.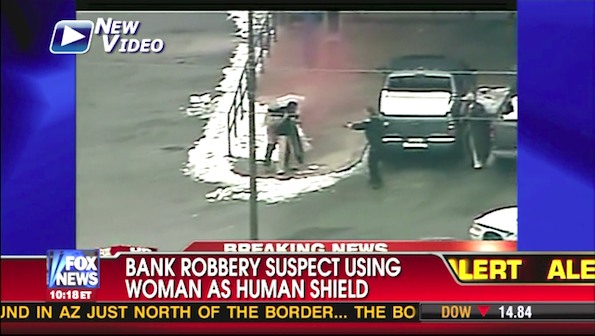 Police with gun drawn at hostage seconds before he slipped.
A red dye pack apparently exploded as the offender and hostage were on a sidewalk. Then the offender slipped on ice in front of the bank, and the hostage broke loose and fled the offender's grip. Police then shot the offender.
Police were possibly shooting from both sides of the offender. One police officer may have been hit by friendly fire.