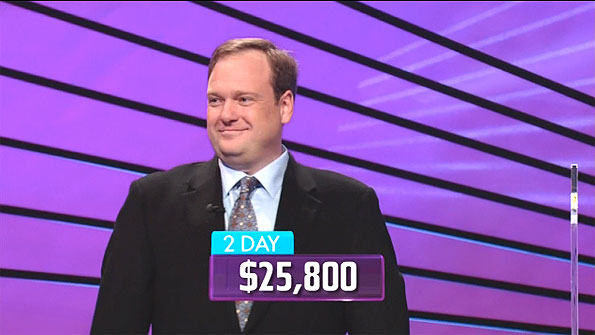 Arlington Heights resident Tony Fox immediately after coming back from behind and taking the lead with Final Jeopardy! and winning for the second consecutive day.*
None of the contestants correctly answered the FINAL JEOPARDY! question …

THE PRESIDENCY
FROM THE SAME STATE,
THEY'RE THE 2 PRESIDENTS
WHOSE OCCUPATIONS
ARE LISTED BY WORLD BOOK AS "PLANTER"
It was smart betting, that gave Tony Fox the win — he lost the least amount of money in the final round.
jeopardy.com — Official Site for Jeopardy!, America's Favorite Quiz Show®. Hosted by Alex Trebek, Jeopardy! is the #1-rated quiz show in syndication with nearly 9 million viewers. The Alex Trebek-hosted syndicated version, which has aired continuously since September 10, 1984.
The current version of the show is produced by Sony Pictures Television (the successor company to original producer Merv Griffin Enterprises) and is distributed on television by CBS Television Distribution (the successor to original distributor King World Productions). Jeopardy! airs on ABC Channel 7 in the Chicago market (Ch. 7/HD Ch. 187).
*Fair use still frame from ABC-TV