VIDEO: Beginning of Accident Investigation (AI) for aftermath of two-car crash at Central Road and New Wilke Road, just before midnight Friday.
Arlington Heights police and firefighter/paramedics responded about 11:30 PM Saturday to an auto accident with injuries at the intersection of New Wilke and Central Road. Police and firefighter/paramedics received a call that a two-car crash occurred with airbag deployment, one female unconscious, and a male in severe pain. Police arrived first to find two cars with severe damage in a T-bone intersection crash with driver's side impact. Police confirmed two injured victims at the scene.
Firefighter/paramedics discovered a door jammed on a Toyota Camry and upgraded the crash response to a pin-in crash with extrication response. Extrication was simple, because the door was easy to pop away, and the victim in the Camry was extricated quickly. The second car appeared to be a red Honda Accord.
The crash was a two-ambulance response — both rescue-ambulances from Arlington Heights Fire Department.
Apparently the red Honda was headed westbound on Central Road and the brown Camry was headed southbound on New Wilke and making a left to go eastbound on Central Road when the vehicles crashed. At least two victims were transported to Northwest Community Hospital. Arlington Heights police are investigating. The intersection was closed for about 90 minutes for investigation. Eastbound Central Road was totally blocked. Right turns were allowed at westbound Central Road, northbound New Wilke Road, and southbound New Wilke Road.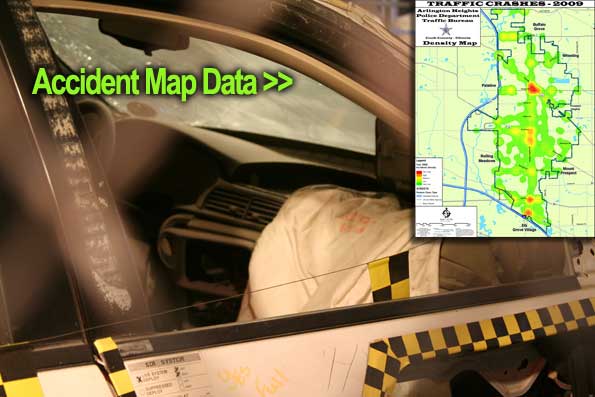 Click the graphic to access the accident map data for the Village of Arlington Heights.
Check Arlington Heights area police and fire calls every day on Twitter or the CRIME & FIRE BLOGS …

FOLLOW ARLINGTONCARDS ON TWITTER!
OR …
CRIME BLOG COLUMN …
FIRE BLOG COLUMN
Follow ALL Arlingtoncardinal.com posts and other tweets on twitter.com/earlyreport