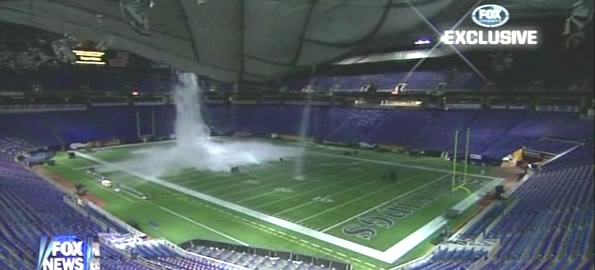 Metrodome roof collapse. Bears could play Vikings at Detroit if the dome isn't fixed in time. See Fox News 'Metrodome' …

A powerful storm has dumped mounds of snow across the upper Midwest, closing highways, canceling flights and collapsing the roof of the Minnesota Vikings' stadium about 5:00 a.m. Sunday morning. The NY Giants-Minnesota Vikings game will be played in Detroit Monday.
The Hubert H. Humphrey Metrodome, commonly called the Metrodome, is a domed sports stadium in downtown Minneapolis, Minnesota, United States. The football playing field has been known as Mall of America Field at Hubert H. Humphrey Metrodome since October 2009. Opened in 1982, it replaced Metropolitan Stadium, which was on the current site of the Mall of America in Bloomington and Memorial Stadium on the University of Minnesota campus. The Metrodome is home to the National Football League's Minnesota Vikings, and is occasionally used by the Big Ten's University of Minnesota Golden Gophers baseball team. The stadium was also the home of the Minnesota Twins from 1982 to 2009 and the Golden Gophers football team from 1982 to 2008.
The stadium is 28 years old, making it the ninth oldest stadium in the National Football League. Locally, its common nickname is simply The Dome. Over time it acquired other nicknames connected to its uniqueness.
The stadium is well known for its fiberglass fabric roof that is self-supported by air-pressure. The Metrodome was also the second major sports facility to have a domed roof supported completely by air, the first being the Pontiac Silverdome. The Metrodome is similar in design to BC Place Stadium and the RCA Dome.