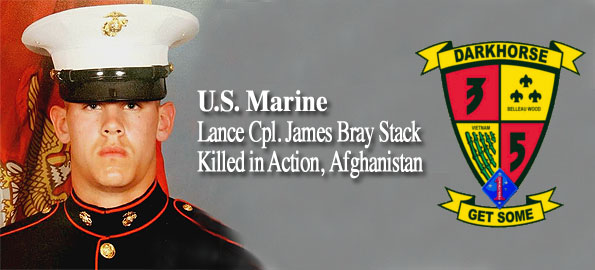 MEMORY GARDENS BURIAL SERVICE VIDEO …
AIRPORT -GLUECKERT FUNERAL HOME MOTORCADE VIDEO …
UPDATE — ESCORT ROUTE: US Marine Lance Corporal James Bray Stack Escort from Airport Announced, Public Encouraged to Line Route
The funeral service for Marine Lance Cpl. James Bray Stack, who was killed last Wednesday in Afghanistan, will be held at 11 a.m. Saturday, November 20, 2010 in the Field House at Prospect High School, 801 W. Kensington Road, Mount Prospect.
Following the service, Marine Lance Corporal James Bray Stack, of Arlington Heights, will be buried with full military honors in Memory Gardens Cemetery in Arlington Heights.
Visitation will be from 2-9 p.m. Friday, November 19, at Glueckert Funeral Home, 1520 North Arlington Heights Road, in Arlington Heights.
James Stack leaves his wife, Katelyn Landeweer Stack, also of Arlington Heights and a graduate of Prospect High School; their 1-year-old daughter, Mikayla; his parents, Linda and Robert Stack; and a 16-year-old sister, Megan.