Bright lightning appeared Monday morning in a brief thunderstorm about 8:20 a.m. in Arlington Heights. A line of strong thunderstorms was indicated by radar from Wheaton down to Yorkville at about 7:35 a.m.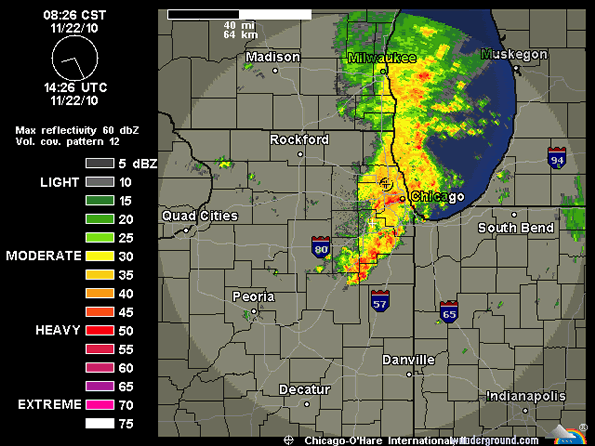 Weather radar cat 8:34 a.m. CDT — CLICK FOR LIVE RADAR …
Could break a high temperature record today, if we go over 69°F — a record set in 1913.
Today: Showers and thunderstorms, mainly before 10am. High near 66. Breezy, with a south southwest wind between 10 and 20 mph, with gusts as high as 30 mph. Chance of precipitation is 90%. New rainfall amounts between a tenth and quarter of an inch, except higher amounts possible in thunderstorms.
TEMPS DROP TONIGHT …
Tonight: A 50 percent chance of showers before midnight. Cloudy, then gradually becoming partly cloudy, with a low around 29. Breezy, with a west wind between 15 and 20 mph, with gusts as high as 30 mph.
Tuesday: Mostly sunny, with a high near 40. West northwest wind between 5 and 15 mph.