View Larger Map
Latest Google Map showing the Mariano's Fresh Market — first noticed on Thursday, September 30, 2010.
Google maps is certainly a useful website for getting directions and understanding a neighborhood, and following crime statistics, etc. Apparently, the highly-regarded and popular multinational public cloud computing, Internet search, and advertising technologies corporation keeps their satellite images up-to-date.
In May 2010, The Cardinal overlaid an estimate of the area of Mariano's Fresh Market for an article announcing the upcoming grocery store grand opening (Mariano's Fresh Market at Kensington, Dryden and Northwest Grand Opening July 19, 2010). The blue shading shown below is the estimate of the size of the building that was overlaid over an image captured of the Lattof Chevrolet building before it was torn down. The satellite image of the new Mariano's Fresh Market building appears to be taken mid-morning this past summer — judging from the shadows that appear in the image.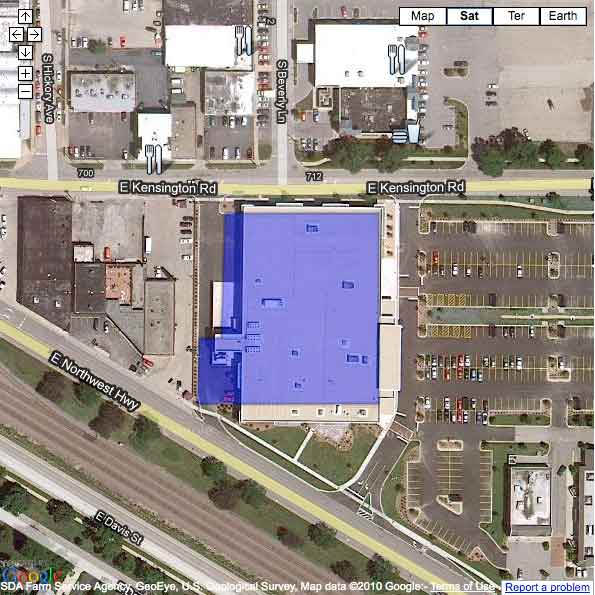 Blue overlay shows the estimated size of Mariano's that was drawn over the old Lattof Chevrolet building based on a satellite image that still showed the Lattof building. Now the image is updated by Google to show the newly constructed Mariano's Fresh Market.