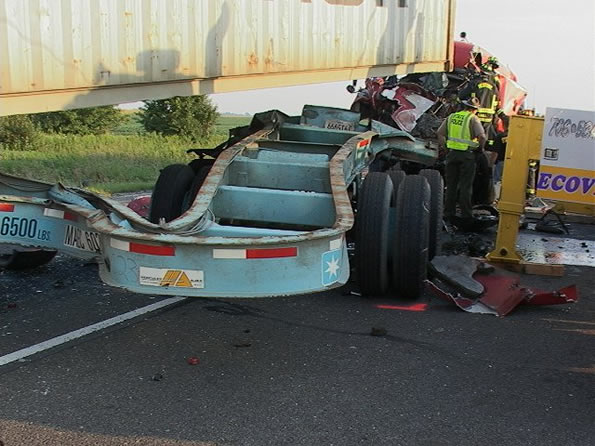 Photos courtesy Todd Sherman/YouTube.com/7089540230.
Frederick Conlon, 52, of Lisben, OH, was pronounced dead at the scene at 7:20 p.m. Thursday, according to the Will County coroner. An autopsy revealed Conlon died from multiple injuries sustained in a crash.
The rear-end collision involving three semi-trailer trucks occurred about 5 p.m. on I-57 about 1/2 mile north of the Kankakee and Will County line. The crash was the second fatal truck crash of the day.
Three Killed in a 24-hour period on I-57
Earlier a fatal rear-end collision involving two trucks and fire occurred on I-57 between Monee and Peotone. The driver of the semi-trailer truck that hit the other truck was killed about 9:30 a.m. Thursday.
About six hours after the second crash a pedestrian was fatally hit on Interstate 57 in south suburban Posen. Early Friday morning about 1:45 a.m. Illinois State Police responded for a man who was fatally hit on in the northbound lanes of the expressway at West 147th Street.
Scenes from the first crash on I-57 from Northern Illinois Fireground
Scenes from the second crash on I-57 from Northern Illinois Fireground
More from Northern Illinois Fireground …