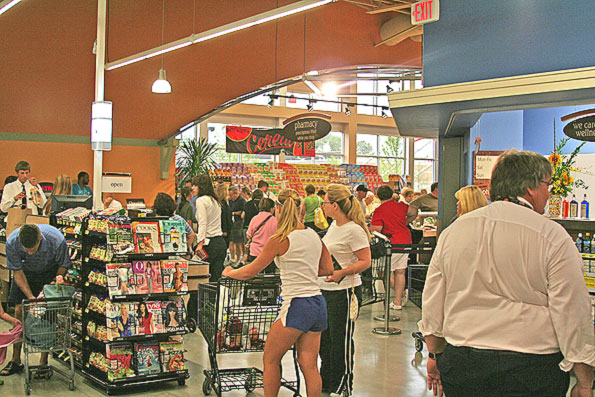 View toward front-center of Mariano's Fresh Market arched window and checkout lanes.
Roundy's opened their first Mariano's Fresh Market in the country in Arlington Heights, Illinois on Tuesday, July 20, 2010. The front of the store has a large home town good old days look with an arched front window. A full line of cash registers spans to the north with spacious aisles to the rear of the store — the western wall. The aisles are clearly labeled and the shelves are stocked to the max. A beautiful floral shop stands at the front-center of the store. Customer service is at the front of the store in front of the checkout lanes.
Celebrity Appearance Details …
Mike Ditka & Chicago Blackhawk 2010 Champion Players Dave Boland, Adam Burish to Highlight Grand Opening Events for Mariano's Fresh Market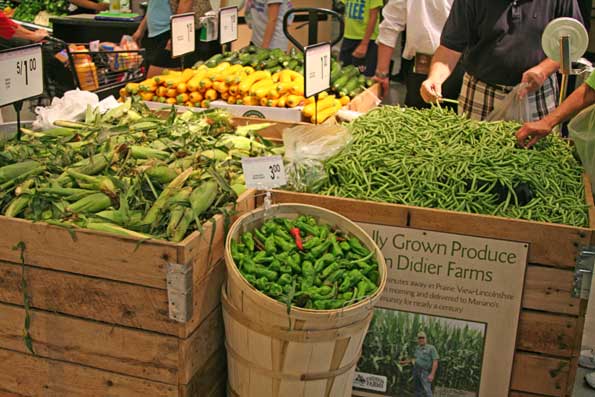 Green beans, corn and more in the produce section at Mariano's … see more pictures below …
Frozen food is located at the front, northeast corner of the store. Dairy makes up the back northwest corner of the store. Meats line the back of the store at the west wall, and meat and seafood are located at the southwest corner at the back of the store. At the south-central area of the store, you will find produce, bulk foods, liquor, health & beauty and a pharmacy. The far south section of the store houses from front-to-back: a coffee bar, restrooms, salad bar, deli, indoor/outdoor bistro, sushi, and a bakery.
The cafe/deli in the store about 70,000 square-feet in size has a full kitchen and sells dinner entrees, chicken, pizza, sandwiches and appetizers.
The store lives up to it's motto. Shop well. Eat well. Live well. There is a bike rack near the north front doors and no cigarettes are sold at the store.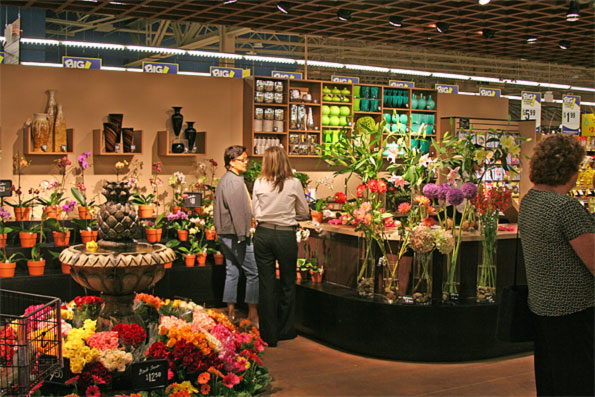 Floral at Mariano's Fresh Market in Arlington Heights on grand opening day.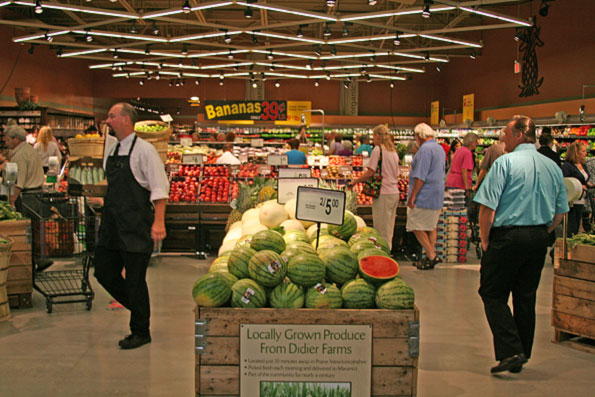 Produce section at Mariano's Fresh Market picture perfect grand opening day.

Mariano's Fresh Market Telephone: 847-253-5439
Store Hours:
6 a.m. – 10 p.m.
Pharmacy Hours:
Monday-Friday 9 a.m. – 8 p.m.
Saturday 9 a.. – 5 p.m.
Sunday 10 a.m. – 4 p.m.
Pharmacy Telephone Number: 847-253-5494
Mariano's Fresh Market official website …
marianosfreshmarket.com