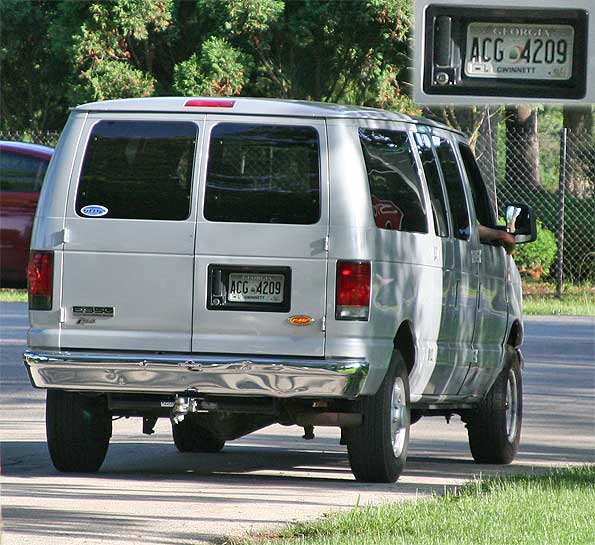 Van that appeared to wait for crew but didn't pick up two male/white door-to-door salesmen. The van left Rolling Lane as soon as two door-to-door salesmen left the block.
At least two separate crews of solicitors were on the streets today in Arlington Heights. Neither of the two crews logged in at the police desk as required, and it is unknown if they had any solicitor permits at all. One crew in the area of Fremont and Douglas Avenue about 3:00 p.m. Tuesday, claimed they were not solicitors, so they also claimed they were not required to carry solicitor permits. However, one of the solicitors, pulled a 'certificate' out of his pocket. He said the village required the certificate, and even took his fingerprint, which he proudly displayed on the certificate. After a call to a clerk in the Village of Arlington Heights Building Department that manages solicitor permits, The Cardinal learned there is no procedure for solicitors or survey takers that involves fingerprinting. The Cardinal also learned by calling in to the police desk that there were no solicitors logged in to the police desk for Tuesday, June 1, 2010. Which means even if a group of solicitors had a permit for today, they were not legitimately on the streets, because they didn't log in to the police desk at police headquarters. Part of the reason solicitors are required to log in is so that residents can call the police desk (847-368-5300) to attempt to verify if a solicitor with a certain organization name is legitimately on the streets. The two solicitors that were not legitimately on the streets going door-to-door were male/white, both were in their early 20's. One had thick blond hair and a thick build. Another was a male/white with light brown hair and a thin build. Both were about 5'9″ tall.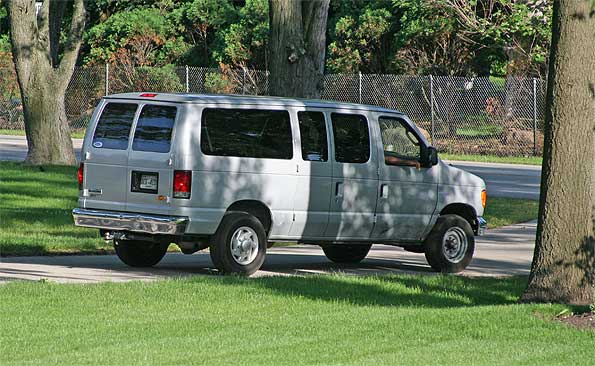 Silver van, appeared to be part of crew waiting for two male/white door-to-door salesman.
The second crew was going door-to-door on Rolling Lane, just north of Euclid Avenue at about 5:40 p.m. Tuesday. One neighbor on the street let two male/white subjects in her house. The two men, were described as male/whites in their early 20's — one with a thick build and one with a thinner build (see photo). The men said their parents lived just around the corner on Scottsvale Lane, that they were selling magazines, and that they were trying to win a trip to Barcelona, Spain. The Cardinal was investigating the crews today and noticed a silver van pull up into Rolling Lane and turn around and wait at the curb — apparently waiting for the two male/white subjects that were going door-to-door. Inside the silver Econoline 350 van were two male/black subjects in their 20's, about 5′ 9″ tall. One of the male/blacks was named Jesse. The two males/whites walked south on Rolling Lane toward Euclid Avenue. They walked close to the silver van, but did not get in, and kept on walking to Euclid Avenue. Then they turned and walked westbound on the north side shoulder of Euclid Avenue. That's when the silver van left its position on Rolling Lane and also headed westbound and pulled over to the shoulder about 50 yards ahead of the two male/whites that were walking. When the two male/white men saw that they were being photographed by The Cardinal, they turned around and flipped the bird (yes, the naughty gesture) and the van that was apparently waiting for them pulled away and continued westbound on Euclid Avenue.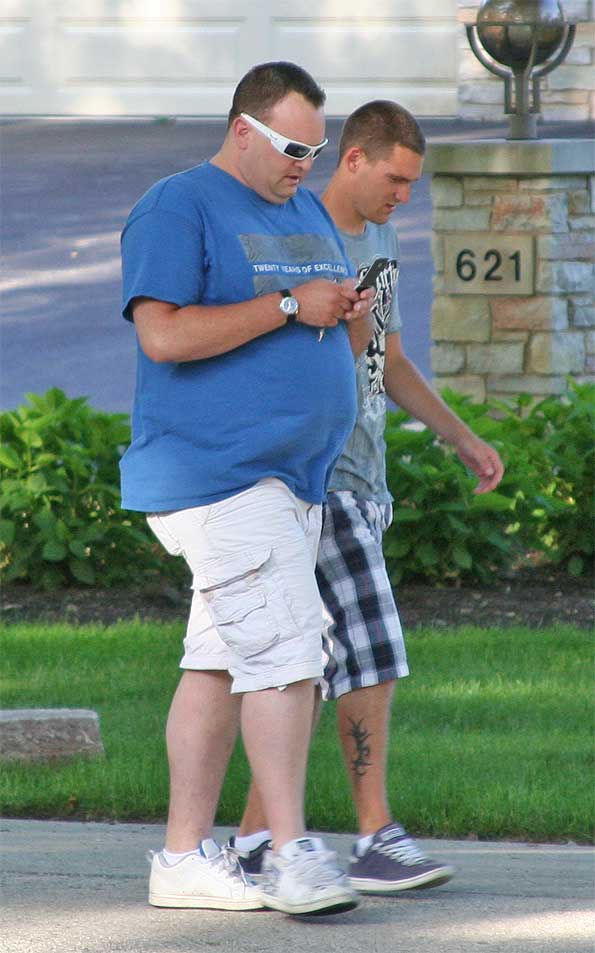 Two solicitors walking southbound on Rolling Lane in Arlington Heights. No lanyards with permits visible.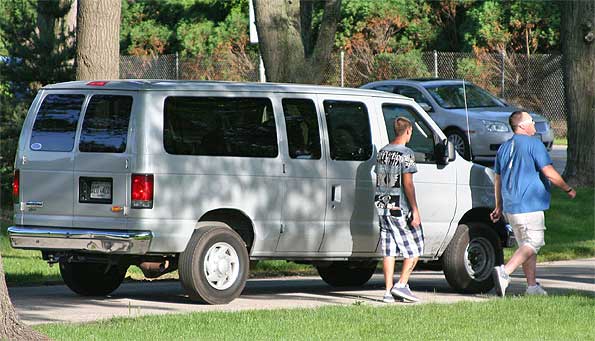 Walking past the van on Rolling Lane near Euclid Avenue.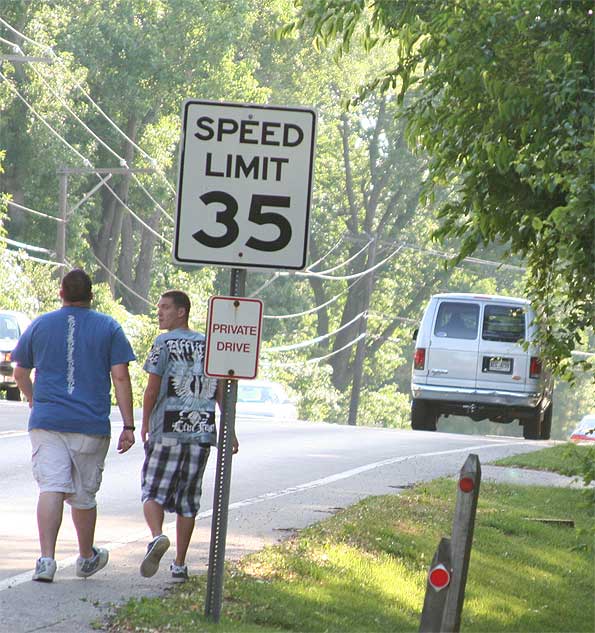 Van pulls away from shoulder after camera aims westbound along the Euclid Avenue shoulder.
Solicitors tend to play on a victim's guilt with a plea to help out the solicitor. After all Arlington Heights is the City of Good Neighbors, right? Who wouldn't want to help out a poor college student? They often pretend to be local ('live right around the corner') while, in fact, many of the solicitors arrive in crews from other states. Some have drug problems and are actually abused by the crew leaders. Burglaries sometimes rise when solicitors come to town, and the intelligence gained by solicitors casing out neighborhoods can often offer the perfect opportunity for burglars in the team.

Solicitor is interviewed on the street last May about why he failed to obey a posted "No Solicitors or Peddlers Invited' sign. He was nice enough and apologized, claiming he was blinded and saw the sign after he rang the doorbell. Check out the security video obtained by The Cardinal. What do you think? Did he scoff at the law and ignore the sign, or was he really blinded at the front door? Comments? Opinions? Should door-to-door solicitation be illegal? It is illegal in some communities. Are YOU a solicitor? Are you a former solicitor? Tell us about the job: GOOD or BAD! Comment here or on the YouTube page …
Residents are advised to take security precautions with solicitors, especially with ruse/scams also reported in the area where offenders can distract you from seeing other team offenders that may enter your house while you are distracted — and steal items from your home. Call 9-1-1 for all suspicious incidents, for solicitors that are rude or aggressive, for solicitors that don't display a permit, and for solicitors that make strange comments. Don't let people in your house, and don't walk out of your house. Be especially careful outside in your yard, when your door might be unlocked.