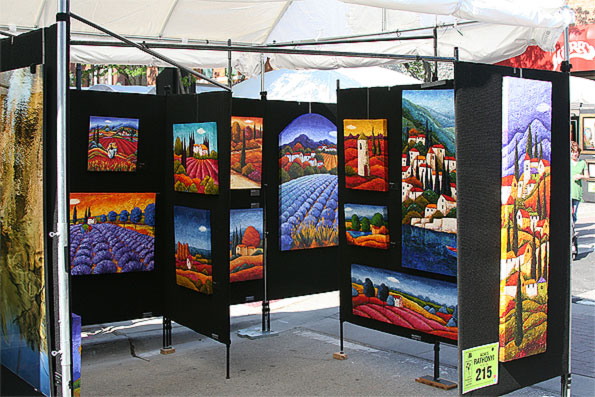 Agnes Rathonyi booth of Ontario, Candada with oil paintings at Campbell and Vail Avenue.
Promenade of Art
Saturday, June 26 and Sunday, June 27, 2010 — 10:00 am to 5:00 pm
Northwest Community Hospital and the Village of Arlington Heights present the Promenade of Art. Located in downtown Arlington Heights and centered at Vail Avenue and Campbell Street (Promenade of Art parking map below), the show features 150 Artists, four blocks of art, live music, and great food.
The annual art show is free and is a great way to celebrate the start of summer by exploring four blocks of outstanding artwork from artists around the Unites States. About 25,000 people are expected to attend the event. The Promenade of Art Arlington Heights festival was launched in 2003 and is now ranked in the top 100 in Sunshine Artist art and craft show magazine.
Park for free in the Vail Avenue Garage, adjacent to the art show, or travel a few blocks away and park in the Municipal Garage, Arlington Heights Road and Sigwalt Street or any of the commuter parking lots along Northwest Highway – all located just a short walking distance to the Promenade of Art!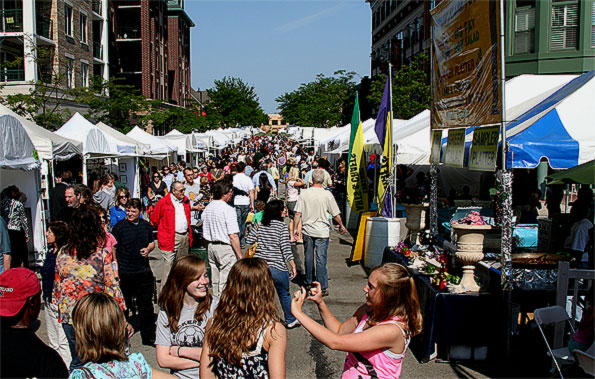 Promenade of Art Arlington Heights looking east on Campbell Street from Highland Avenue.

View Public Transportation & Parking in a larger map
StreetsofArlington.com/parking: Parking information map for the Promenade of Art Arlington Heights festival from STREETSOFARLINGTON.COM. The StreetsofArlington.com parking map also includes public transportation information.
For more information call Amdur Productions, the coordinator of the event, at 847-926-4300.
AMDUR PRODUCTIONS — amdurproductions.com
Village of Arlington Heights — vah.com
Northwest Community Hospital — nch.org