Video of aftermath of multi-vehicle rear-end collision at 1051 West Rand in the eastbound lanes of Rand Road.
Arlington Heights police and firefighter/paramedics responded about 2:00 p.m. Wednesday to a multi-vehicle crash on Rand Road at 1051 West Rand Road. One person was injured and transported to Northwest Community Hospital. Arlington Heights police are investigating, but apparently an orange Chevy 2500 pickup truck hauling a trailer loaded with a road roller rear-ended a blue Mercury Villager, which shot across the East side lot of a doctor's office at 1051 West Rand Road — Affinity Health Care. The orange pickup truck then rear-ended another vehicle a red Dodge sports car, which resulted in severe rear-end damage. The red Dodge then hit a Volvo, which resulted in rear-end damage. Two other cars were also possibly hit, but they were not towed from the scene.
Firefighters helped the owner of the Volvo access the contents of their trunk. Hillside Towing had extra work separating the pickup truck and the red Dodge, which were wedged together.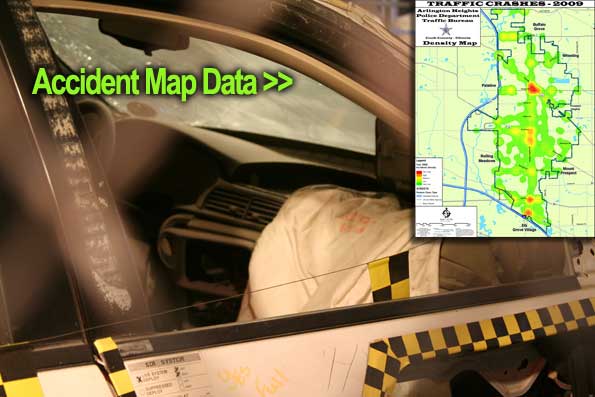 Click the graphic to access the accident map data for the Village of Arlington Heights.