Video of aftermath of crash of a minivan and and Arlington Heights police car early Friday morning.
Arlington Heights police responded just before 2:00 a.m. Friday to the aid of a minivan driver and one of their own officers after the minivan collided with a police car at Arlington Heights Road and Algonquin Road. The minivan, which was apparently going northbound on Arlington Heights Road, rolled over and landed on its roof after the crash with the police car. The minivan, a Mercury Villager, was apparently going at a high rate of speed when it clipped the front end of the police squad. The speed limit at northbound Arlington Heights Road, just north of Algonquin Road is posted 35 mph.
The minivan had severe roof damage and the male driver needed to be extricated from the car. No extrication tools, except vehicle stabilization equipment, were needed. The victim in the minivan was extricated on a backboard with other spinal precautions involved in getting him out of the overturned van.
The police officer was also injured after the crash, which caused air bag deployment in the squad car. Both victims were transported to Northwest Community Hospital by Arlington Heights firefighter/paramedics. Police immediately called for an ambulance for the driver and informed the fire department that the driver was entrapped in the overturned vehicle, and then called for an ambulance for the injured police officer.
Illinois State Police were at the scene immediately investigating the accident. The scene was cleared about three hours after the accident.
No official word from Arlington Heights police, but it appears that the minivan driver was at fault.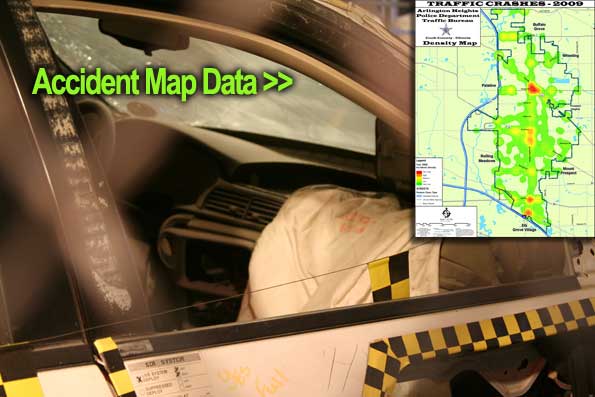 Click the graphic to access the accident map data for the Village of Arlington Heights.