VIDEO: Firefighters knocked down a fire in the crawlspace, but the fire had already reached the attic before they arrived, becoming a dangerous fire that caused all firefighters to exit the house. The blasting horns of the fire engine are the signal to stop interior firefighting and exit the building.
Arlington Heights firefighter/paramedics responded to a house fire in the 900 block of North Ridge Avenue just after 7:30 p.m. Monday. Firefighters arrived on the scene quickly and knocked down a fire in the crawlspace, but a fire in the attic remained stubborn. Dangerous conditions inside the house forced firefighters to evacuate the house and fight the fire from the exterior and roof.
No reported injuries. Firefighters rescued two dogs within 10 minutes of their arrival. Arlington Heights police officers checked with neighbors to see if they knew if the residents were home, or if they knew how many people lived inside the house.
The owners of the house rushed to the scene as they arrived home and saw the firefighters at their home.
Fire departments from Glenview, Hoffman Estates, Mount Prospect assisted Arlington Heights by providing coverage in fire stations for the rest of the Village of Arlington Heights.

VIDEO: Firefighters work on the roof and use a thermal image camera to fight the fire in the attic of a house on Ridge Avenue.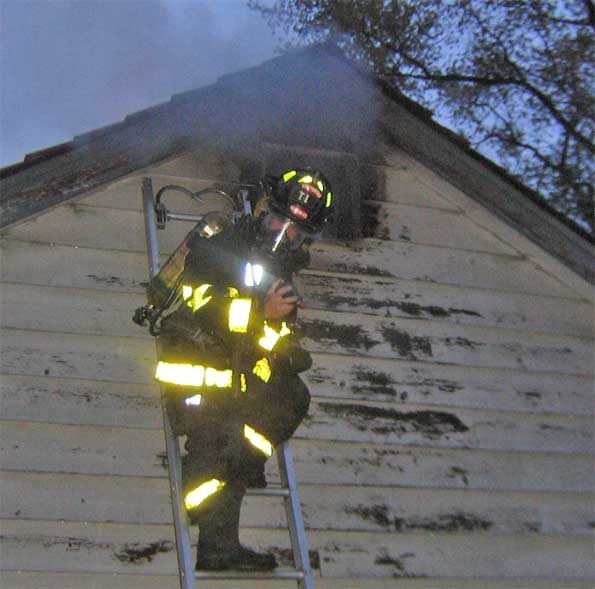 Firefighter checks the attic for fire after looking in a hole near the peak of the roof.