Illinois Republican Senator's full speech to the crowd that the Taxed Enough Already (TEA) rally in Palatine.
Well-known and respected Republicans and Libertarians attended a Taxed Enough Already (TEA) rally at Volunteer Plaza at the corner of Hicks and Northwest Highway Thursday afternoon. Speakers included Candidate Tom Morrison (Illinois House 54th District), Libertarian Candidate Brian Costin for Mayor of Schaumburg, Adam Andrzejewski (Real Reform Requires New Leadership), Candidate Joe Walsh for U.S. Congress 8th District, and Illinois Republican State Senator Matt Murphy.
Several hundreds of people rallied as Joe Walsh called for people not to accept the mainstream media marginalizing the tea party groups. Libertarian Brian Costin, candidate for Schaumburg village president in 2011, itemized the rises in hotel taxes, sales taxes, entertainment taxes; and decried overspending in the Schaumburg's budget. Senator Matt Murphy, just returning from Springfield, rallied the crowd to help get the country back to center-right, cited examples of government waste in the Illinois Department of Corrections, explained his support for term limits in government. A few speakers, including Long Grove Village President Maria Rodriguez, explained that Illinois is 45th in job growth from 2003 to 2007. The fact elicited groans and boos from the crowd.
Banners and flags included 'God Bless Our Nation, Save the Constitution, Don't Tread on Me, Save a Tree — Stop Printing Money, Obama: My Favorite Marxist, a 'LIBERTY' flag with a crescent, SAVE TREES; STOP PRINTING MONEY, LIBERTY: ALL THE STIMULUS YOU NEED, and hundreds of U.S. flags and more.
The LIBERTY flag with the crescent is similar to the flag carried by Colonel William Moultrie's South Carolina Militia on Sullivan Island in Charleston Harbor on June 28, 1776. The British were defeated June 28, 1776, which saved the south from British occupation for another two years. The South Carolina state flag still contains the crescent moon from this Revolutionary flag.
More video and pictures coming later today.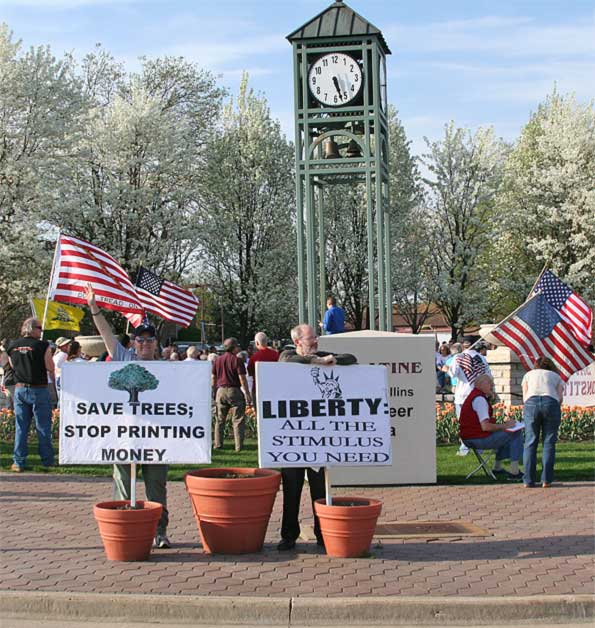 SAVE TREES; STOP PRINTING MONEY and LIBERTY: ALL THE STIMULUS YOU NEED banners at Vounteer Plaza.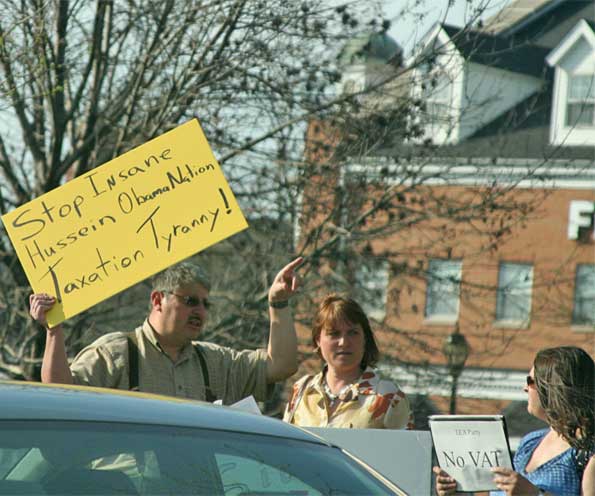 Stop Insane Hussein ObamaNation Taxation Tyranny! banner at Taxed Enough Already rally in Palatine, IL Thursday.