View
Chicagoland and Worldwide Crime Notebook Map
in a larger map
UPDATE (February 24 2012):
Cook County jurors convicted Michael Cacini, 36, on Friday of attempted murder of a Chicago police officer by holding and dragging the police officer while driving his (Cacini's) vehicle, pushing the police officer away from his vehicle and then running the police officer over — with his rear tire running over the officer's shoulder and leg. Cacini was also convicted of aggravated battery for punching the police officer during the encounter that occurred on April 20, 2010 in the 100 block of West Elm Street, Chicago. Cacini's actions left Near North District police officer Kristopher Rigan with a dislocated shoulder, missing teeth, and abrasions to his arm. Cacini's sentencing date is unknown, but he faces 20-to-80 years.
Michael Cacini, 34, of the 500 bock of East Mayfair in the Scarsdale neighborhood in Arlington Heights was charged with attempted first degree murder, aggravated battery to a police officer, resisting arrest and possession of cannabis early Tuesday morning in Chicago. Michael Cacini is reported allegedly to have become combative at a traffic stop of his Mercedes Benz in the 100 block of West Elm Street about 3:15 a.m. Tuesday. Allegedly, as he fled in his vehicle from the traffic stop in Chicago, he grabbed a police officer by the officer's vest, and held on to the police officer's vest as he drove away. He also struck the Chicago police officer's partner while he fled. A Chicago Police officer shot at Cacini as he drove away, but Cacini was not hit. Police were able to stop him a short time later near Dearborn and Division Street and place him custody.
Both officers were taken to a local hospital. The injuries are reported to be "not life threatening."
Readers are reminded that individuals are innocent until proven guilty in court of law.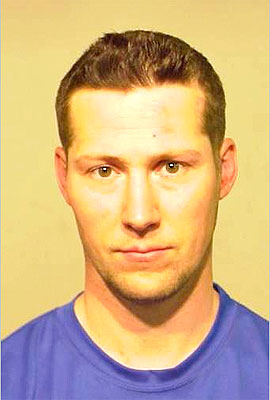 Michael Cacini

View Chicagoland and Worldwide Crime Notebook Map in a larger map