View
Chicagoland and Worldwide Crime Notebook Map
in a larger map
Crime Scene: Viaduct near Churchill Field Dog Park was blocked by police tape for several hours after the crime.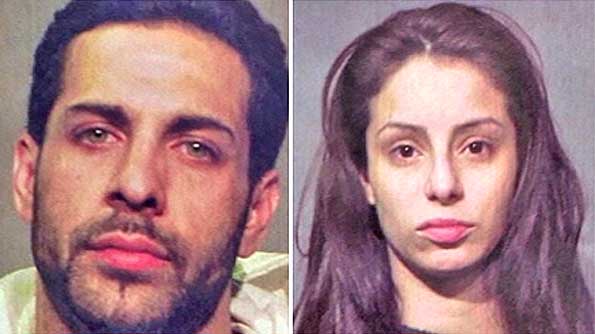 Mug shots: Heriberto Viramontes (left) and Marcy Cruz.
Heriberto Viramontes, 30, of the 3100 block of North Springfield Avenue and his girlfriend Marcy Cruz, 25, have been charged with aggravated battery and armed robbery after investigation of the baseball bat attack at 3:30 a.m. Friday in the 1800 block of North Damen Avenue. Cell phone records from the victims' stolen cell phones, and account information from the victims' stolen credit cards helped lead to the suspects. Also, a bat has been recovered.
A 23-year-old female foreign exchange student from Ireland, Natasha McShane, was knocked unconscious and listed in critical condition. She is enrolled as a graduate student at the University of Illinois at Chicago's College of Urban Planning and Public Affairs. A 24-year-old woman, Stacy Jurich, was also injured, and is listed in serious condition, but was able to give a description of the offender before she lost consciousness.
See also …
The Cardinal Armed Robbery with a Baseball Bat: Two Women Seriously Hurt on Damen in Bucktown Attack

View Chicagoland and Worldwide Crime Notebook Map in a larger map
Coverage from Ireland …
Irish Times: Two held over mugging of Irish student in Chicago
Irish Times: Two held over UCD student attack
Irish Times: UCD student attacked in US remains critically ill