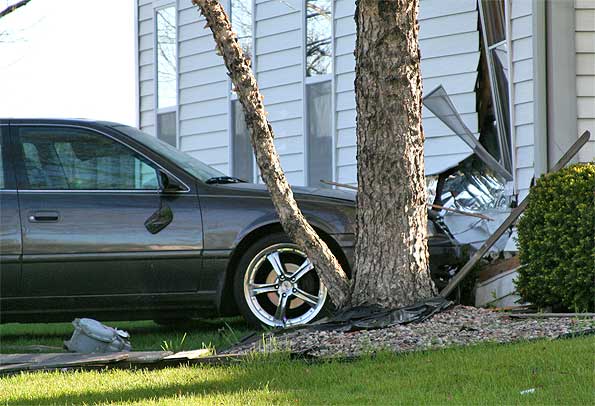 A car crash knocked out a window frame and a gas meter, which is seen at the lower left of the photo.
Arlington Heights police and firefighter/paramedics responded about 7:05 a.m. Wednesday to a crash at Lake Cook Road and Highland Avenue. The driver of a Chevy Avalanche apparently rear-ended a large sedan, which shot across the parkway, through a fence and into the wall of a house in the 4200 block of North Highland Avenue. The car completely knocked off the gas meter to the house, which cause a high-pressure gas leak from the line connecting the main to the house.

Video of car crashed into a house on Highland Avenue near Lake Cook Road with gas hissing noise at 0:18 seconds to 0:28 seconds.
A hissing noise could be heard from the leaking gas and the neighborhood east of the house smell of commercial natural gas. Nicor arrived quickly to shut off the gas leak. The gas filled the inside of the house with a heavy odor. Police were careful to keep the hazards, such as ignition sources (cigarettes) away from the scene. Firefighters check the explosion risk and took necessary precautions.
No reported injuries. Eastbound Lake Cook Road was backed up more than usual.
Video developing …