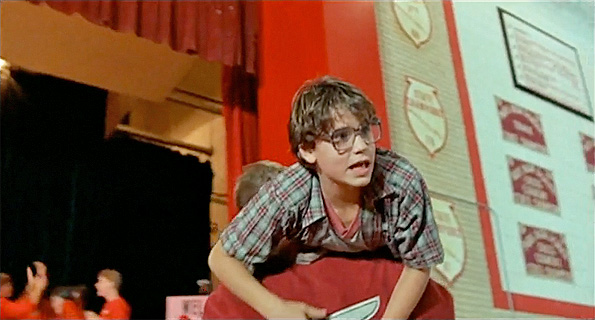 'Lucas' played by Corey Haim carried to the Grace Gym stage at the former Arlington High School during a pep rally scene shows the Card Code (upper right) and brilliant red color scheme of the Grace Gym from the former 'Home of the Cardinals.'
Corey Haim, a 1980's teen heartthrob famous for his acting roles in 'Lucas' and 'The Lost Boys' has died at age 38. Haim died at 2:15 a.m. Wednesday at Providence St. Joseph Medical Center in Burbank, California, after he was taken by paramedics to the hospital from an apartment complex known as Oakwood in Los Angeles near Burbank.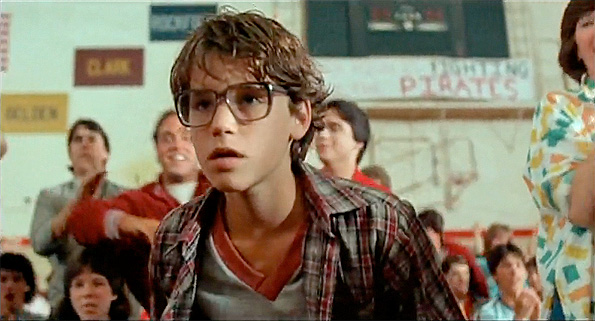 'Lucas' played by Corey Haim with the Grace Gym scoreboard on the west wall toward the foyer.
Haim's major break in acting was in 1986, billed as the main star alongside Kerri Green, Charlie Sheen, and Winona Ryder in the popular movie Lucas. Haim would receive a nomination for an Exceptional Performance by a Young Actor Starring in a Feature Film – Comedy or Drama at the Young Artist Awards for his role as the title character. Film critic Roger Ebert gave Haim good reviews.

Lucas filmed the summer immediately following the controversial closing of Arlington High School in 1984. The Arlington High School library was converted to a cafeteria for the film. Other school scenes, including the football field, were shot at Glenbard West High School in Glen Ellyn, Illinois and Arlington High School in Arlington Heights, as were many of the scenes outside of the high school. The pep rally scene early in the film was shot in the Grace Gym and Grace Gym foyer of Arlington High School. Other scenes for Lucas were filmed at various locations throughout Chicagoland.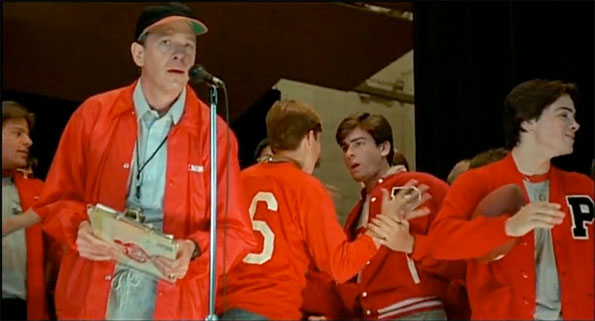 Charlie Sheen as 'Cappie' on stage at Grace Gymnasium for the Pep Rally — an early scene of the film 'Lucas'.
The title character, Lucas Bly (Corey Haim), is an extremely intelligent, if nerdy 14-year-old high school student. He becomes acquainted with Maggie (Kerri Green), a pretty older girl who has just moved to town. After meeting Lucas on one of his entomological quests while she is playing tennis, Maggie befriends him, spending time with him during the remainder of the summer. When school begins Lucas, who finds himself a frequent victim of bullying and teasing, has a protector of sorts —Cappie (Charlie Sheen), a fellow student and football player. Cappie was once one of Lucas' tormentors, until Cappie contracted hepatitis and Lucas brought him his homework every day, ensuring that he didn't fail his school work.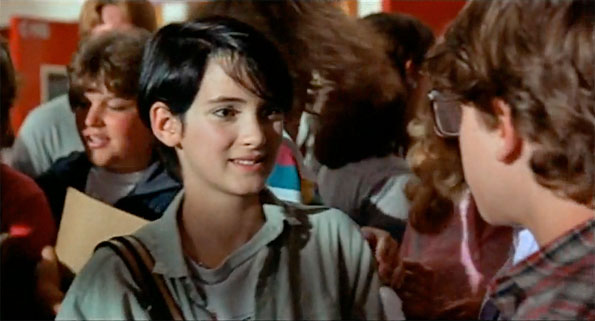 Wynona Ryder in the Grace Gym foyer which is now painted blue for Christian Liberty Academy.
Rina (Winona Ryder, in her first feature film role), Lucas' best female friend, encounters him as he sits by a lake, looking across the lake at the dance festivities. Even though she has obvious feelings for him, Rina consoles Lucas as he frets about him and Maggie being "from two different worlds". He witnesses Cappie and Maggie's first kiss from across a lake.
The next day Lucas joins the football team in desperation, and the rest of the movie is about his determination.
Roger Ebert gave the film 4 out of 4 stars, calling it a film "about teenagers who are looking how to be good with each other, to care, and not simply to be filled with egotism, lust and selfishness, which is all most Hollywood movies think teenagers can experience". Ebert later included the film in his top 10 films of 1986.
By the late 1990's, Haim's career was in trouble. After starring in several other films and a TV series, he filed for bankruptcy in 1997. In 2007, he told ABC's "Nightline" that drugs hurt his career: "I feel like with myself I ruined myself to the point where I wasn't functional enough to work for anybody, even myself. I wasn't working,"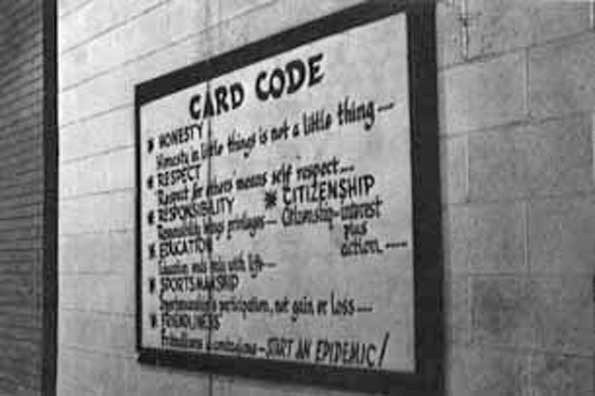 The Card Code in Grace Gym.
THE CARD CODE
HONESTY
Honesty in little things is not a little thing …
RESPECT
Respect for others means self respect …
RESPONSIBILITY
Responsibility brings privileges …
CITIZENSHIP
Citizenship = interest plus action …
EDUCATION
Education ends only with life …
SPORTSMANSHIP
Sportsmanship is participation,
net gain or loss …
FRIENDLINESS
Friendliness is contagious …
START AN EPIDEMIC!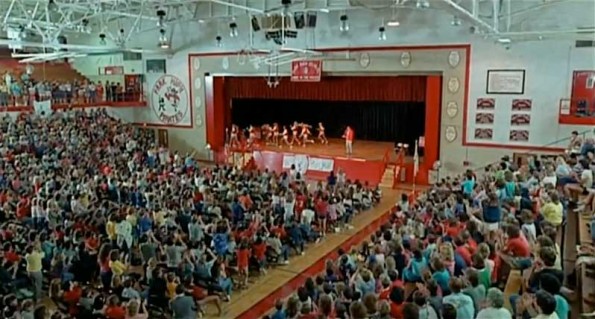 Arlington High School Grace Gym decorated in 1984 for the 1986 release of Lucas.
See also …
Corey Haim Dies At 38: 'Lucas' Was Much More Than Teen Idol Fare