See
Chicagoland Major Fires & Rescues
view of 17622 Lincoln, Homewood in a larger street view.
2 Homewood Firefighters Critically Injured, Firefighter Brian Carey Pronounced Dead at 10:03 p.m.
Homewood Fire Department responded about 9:00 p.m. Tuesday to a fully involved house fire at 17622 Lincoln in Homewood. There was report upon arrival of firefighters that a person was trapped inside the house. A husband and wife were living in the home, but the man, Wendell Elias, 84, died after two attempts to rescue him from the burning house. Efforts to resuscitate him on the front lawn were not successful, and he was transported to a local hospital. The man's wife escaped from the fire and was also transported to a local hospital. Two Homewood firefighters were critically injured in the fire — possibly fueled by oxygen tanks for medical use. One of those injured firefighters was pronounced dead about an hour after being injured. Homewood firefighter Brian Carey, 28, of Evergreen Park was pronounced dead at 10:03 p.m. at Advocate South Suburban Hospital in Hazel Crest. A second female firefighter, Karra Kopas, 21, is hospitalized at University of Chicago Hospitals in critical condition and then stable condition with first- and second-deree burns. The female firefighter may have been saved by heroic actions when Brian Carey covered her during a flashover of the fire. A 'MAYDAY' was called out shortly after 9:00 p.m. for injured and trapped firefighters. A Chicago Tribune photo shows four firefighters at a front door that is engulfed with flames with a hose line into the doorway. The hose line would presumably have additional firefighters on the same hose line on the other side of the flames inside the house.

The firefighting operation was escalated to a second alarm box, or 2-11 alarm, approximately 9:15 p.m.
Brian Colin Carey became a full-time paid Homewood firefighter less than two months ago after working other jobs in the fire service or serving on an ambulance. Carey was always physical. He loved the outdoors, loved to bike, and ran 10 K's. According to his family, he wanted to be a firefighter since he was five years old.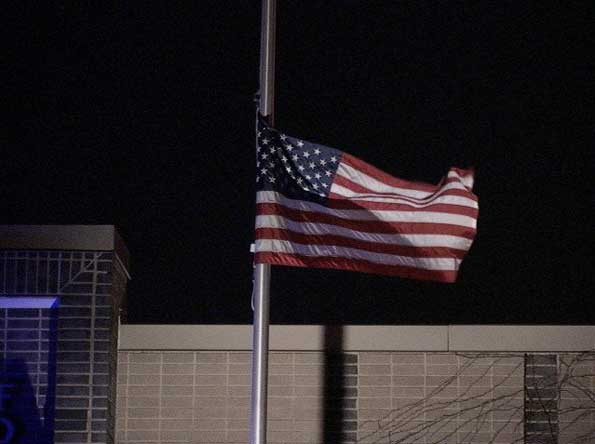 American flag at half-mast at Homewood Police Department Headquarters in Homewood, Illinois.
Photos courtesy Todd Sherman/YouTube.com/7089540230.

View Chicagoland Major Fires & Rescues in a larger map
See also …
Chicago Tribune: Deadly Fire in Homewood
ChicagoBreakingNews.com: Firefighter becomes 2nd fatality in Homewood blaze
WGNTV.COM: Family of Homewood fireman reacts to his death
Brian Carey proclamation from Governor Pat Quinn
WHEREAS, on Tuesday, March 30, 2010, a house fire claimed the life of Firefighter Brian Carey of Evergreen Park. He was 28; and
WHEREAS, Firefighter Carey's death marks the first time in the Homewood Fire Department's 114-year history that a firefighter was killed in the line of duty; and
WHEREAS, Firefighter Carey died battling a blaze that claimed the life of a resident and left a second firefighter and another woman hospitalized; and
WHEREAS, Firefighter Carey joined the Homewood Fire Department in August of 2008 as a part-time firefighter/paramedic and became a full-time member of the department on December 13, 2009; and
WHEREAS, Firefighter Carey is remembered as very dedicated employee who truly loved being a firefighter; and
WHEREAS, throughout his career, Firefighter Carey represented the Homewood Fire Department and the State of Illinois well; and
WHEREAS, funeral services will be held on Tuesday, April 6, 2010 for Firefighter Carey:
THEREFORE, I, Pat Quinn, Governor of the State of Illinois, do hereby order all persons or entities governed by the Illinois Flag Display Act to fly their flags at half-staff from sunrise on April 4, 2010 until sunset on April 6, 2010 in honor and remembrance of Firefighter Carey, whose selfless service and sacrifice is an inspiration.