View The Cardinal Strange World in a larger view A wall near the entrance to an aisle into SeaWorld with reference to the fact that Orca whales are apex predators (top of the food chain).
UPDATE: Dawn Brancheau, 40, was the SeaWorld trainer who was killed Wednesday afternoon. She was a senior trainer at the park. Some say she slipped and fell into the tank, at least one witness says she was grabbed at the waist by the Orca.
Orange County Fire Rescue responded to SeaWorld's Shamu Stadium about 12:30 p.m. Wednesday after a whale named Tillikum pulled a female trainer into the tank. There was reported violent thrashing of the victim by the whale. The trainer had just finished explaining to the audience what they were about to see in the upcoming show. The killer whale grabbed the woman by the waist as she was standing at the edge of a secondary pool and dragged her underwater.
The stadium was immediately closed, but the park is not shut down.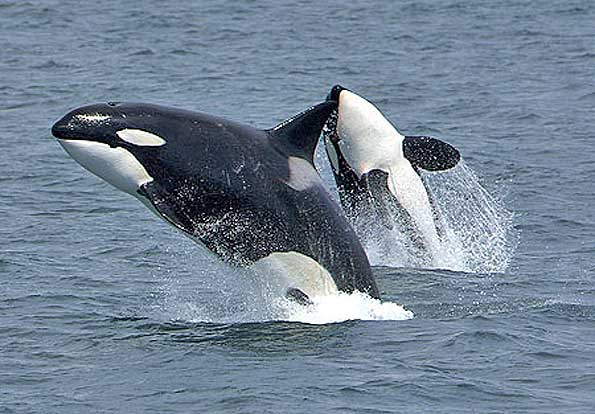 Orca whales are the largest species of the dolphin family and are found in all oceans of the world, and are known to hunt sea lions, seals, walruses and even large whales, and fish, such as salmon and possibly sharks.
How big are Killer whales? How much do Killer whales weigh? How fast are killer whales?
Males typically range from 6–8 metres (20–26 ft) long and weigh in excess of 6 tonnes (5.9 LT; 6.6 ST).[10] Females are smaller, generally ranging from 5–7 metres (16–23 ft) and weighing about 3 to 4 tonnes (3.0 to 3.9 LT; 3.3 to 4.4 ST). Male pectoral fins are about 6 feet long each. The killer whale's large size and strength make it among the fastest marine mammals, able to reach speeds in excess of 30 knots (56 km/h) or 35 miles per hour. Tilikum is reported to be the largest Orca in captivity — measuring 22 feet 6 inches and weighing 12,300 pounds in 2007.

View The Cardinal Strange World in a larger Street View of SeaWorld.

View The Cardinal Strange World in a larger map
SeaWorld [official site]
SeaWorld Orlando [official site]
See also …
WESH.COM SeaWorld Worker Dies In Killer Whale Attack