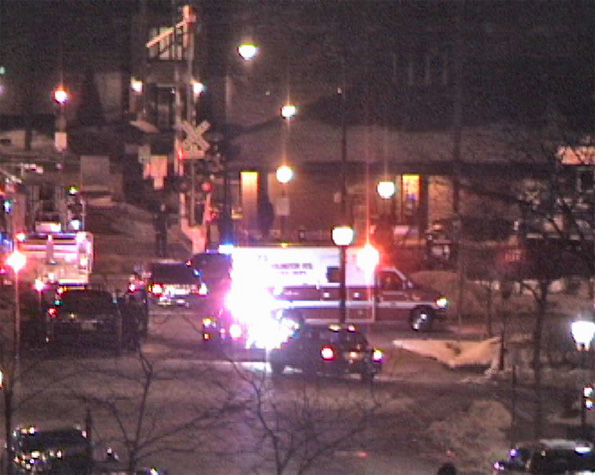 Westbound Metra Train #661 shown just at the right edge of photo minutes after a pedestrian was found under the train near Vail Avenue in downtown Arlington Heights.
A female pedestrian was hit by an outbound Metra Train #661 at about 10:25 p.m. Friday at the downtown Arlington Heights Metra Station, 45 West Northwest Highway. A police officer on patrol came upon the scene and called for an ambulance for a woman under the train, just east of the Vail Avenue crossing. The train was westbound on the southernmost track, just about to enter the intersection with Vail Avenue. No word yet on how the woman was struck and killed, or how the incident occurred.
Train #661 was scheduled to arrive in Harvard, Illinois at 11:20 p.m. but was stopped due to the 'pedestrian incident' in Arlington Heights. The scheduled departure from Arlington Heights for Train #661 is 10:16 p.m. weekdays. Another westbound train arrived at the Arlington Heights station, where passengers from the train that was stopped were transferred to the second train. The second train (#663) left the station about 11:40 p.m. Friday and arrived in Crystal Lake by midnight. The scheduled departure time for Train #663 is 11:16 p.m.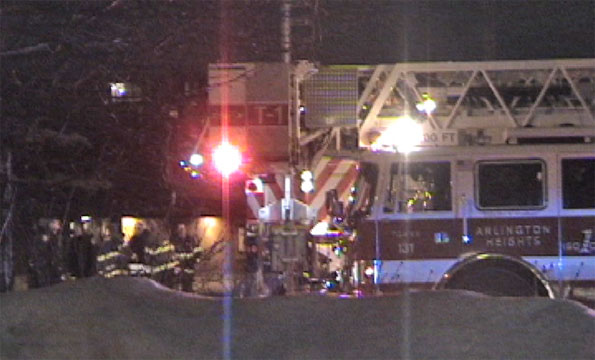 Firefighter/paramedics removed a body from under the train, just east of Vail Avenue — a considerable distance before the train would have passed the eastern sidewalk of Vail Avenue.
An accident reconstruction team from Union Pacific and/or Metra arrived on the scene shortly after the accident. Metra police were also on the scene.
Vail Avenue and Dunton Avenue were blocked for a prolonged time period the rest of Friday night and early Saturday for an investigation with an accident reconstruction team. Police also blocked Vail Avenue at Campbell Street.