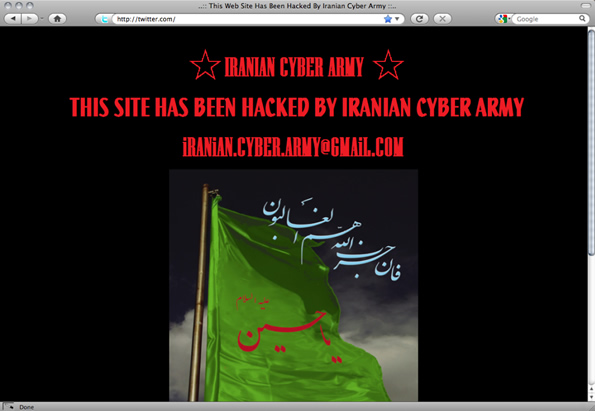 Screen shot of Twitter.com home page as it was defaced by 'Iranian Cyber Army'
Twitter blackout. Twitter down. Tweets did not go through early Friday morning. The tweet failure on Twitter was accompanied by defacement of the front page of Twitter using some method of DNS re-assignment most likely.
What did the message from the 'Iranian Cyber Army' say?

Iranian Cyber Army

THIS SITE HAS BEEN HACKED BY IRANIAN CYBER ARMY

U.S.A. Think They Controlling And Managing Internet By Their Access, But THey Don't, We Control And Manage Internet By Our Power, So Do Not Try To Stimulation Iranian Peoples To….

NOW WHICH COUNTRY IN EMBARGO LIST? IRAN? USA?
WE PUSH THEM IN EMBARGO LIST ;)
Take Care.
Twitter was back up in about an hour and fixed by 1:30 a.m. CT on Friday.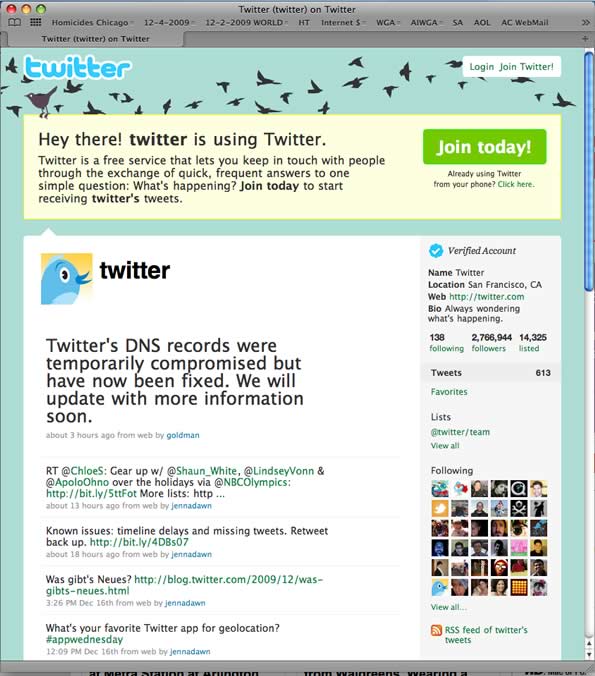 Tweet from Twitter that acknowledge that Twitter's DNS was hacked early Friday morning, December 17, 2009 (twitter.com/twitter).
Iranian Revenge for the 'Twitter Revolution'
The defacement appears to be a reprisal for Twitter's role in the Iranian election protests in June 2009. Iranian citizen's used Twitter to provide updates to the world about Iranian government reaction to protests. Iranian protesters beamed images from the violent protests when mainstream media was blocked from entering Iran, and forbidden from broadcasting information if there were journalist inside the country.
Twitter became so important in spreading news of the protests — and in aiding protester communication on the streets of Iran — that the U.S. State Department asked Twitter to delay a planned shutdown for maintenance.
A second site was also hacked with the same home page defacement …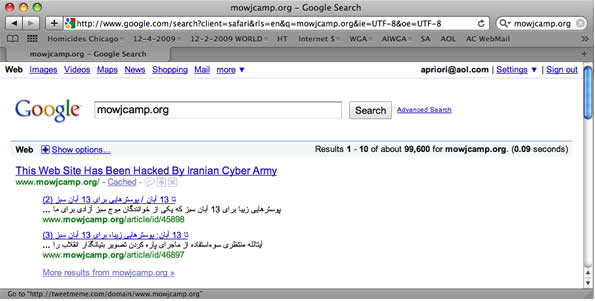 Google search results fro mowjcamp.com … for more information see GLOBALCONFLICTMAPS.COM: DNS Tweet Down: 'Iranian Cyber Army' Hacks, Defaces Twitter Home Page