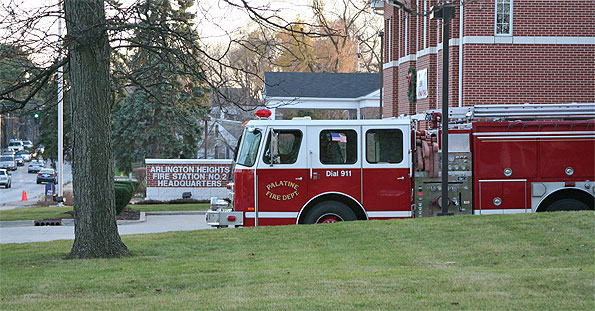 A Palatine Fire Department fire engine provides station coverage for Arlington Heights Fire Department at Fire Station 2. Arlington Heights and Palatine fire departments often provide mutual aid for each other when either community needs help.
The Palatine Fire Department embarks on its annual campaign to "Keep the Wreath Red".
The "Keep the Wreath Red" program is designed to emphasize fire safety during the holiday season.
From the day after Thanksgiving until New Years Day, a wreath will be placed on each of Palatine's five fire stations. The wreaths will be lit with all red bulbs. Each time there is a fire related to the holidays, a red bulb will be replaced with a white bulb. A wreath that contains all red bulbs indicates our goal, a safe holiday season. Last year in Palatine there were no holiday related fires and all of the bulbs remained red.
There are many things you can do to make the season safe this year, including:
• Keep the tree stand filled with water.
• Keep the tree, wreaths, and all holiday decorations away from any heat source, such as fireplaces, space heaters, candles or heating ducts.
• Keep candles out of the reach of children.
• Check electrical cords for any cracks before using them.
• Turn off all holiday lights when going to bed or when leaving the house.
• When using a fireplace, make sure there is a fire screen in place, don't close the damper until the fire is completely out, and burn only seasoned firewood.
• After any entertaining, check wastebaskets and furniture for smoldering cigarettes.
• Make sure your home has at least one working smoke detector per floor and that everyone knows how to exit in case of an emergency.
• Make sure that all exits are kept unobstructed.
All of the members of the Palatine Fire Department wish residents a safe and happy holiday season. Palatine Fire Department is always available for assistance with fire safety information. Residents are advised to call the Public Education Division at (847) 202-6340.
The number for the Arlington Heights Fire Department Fire Public Education division, which also has a "Keep the Wreath Red" campaign, is (847) 368-5460.
See also …
Arlington Heights Fire Department
Palatine Fire Department