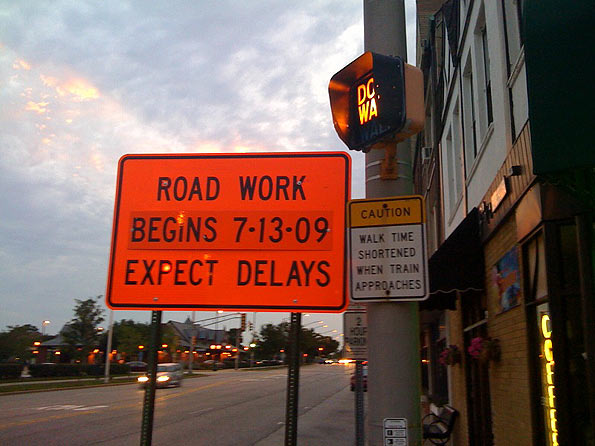 Road construction sign looking west at Northwest Highway at the start of construction in July 2009.
The Daily Herald is reporting that several cars that have traveled on Northwest Highway in the construction zone from Vail Avenue in Arlington Heights to approximately Hicks Road in Palatine have been stuck with a brown film or brown muck. One driver claims she had to have her car specially cleaned for $119 after staff at Northwest Car Wash, 900 West Euclid Avenue, told her that running the car through the car wash 10 times wouldn't remove the material from the car.
Road work at the construction zone began about July 13, 2009 and is expected to be finished early November 2009.
People who believe their vehicle has been damaged by a road condition in state jurisdiction in Cook, DuPage, Kane, Lake, McHenry and Will counties, may file a claim with IDOT by calling (847) 705-4401.
More …
Daily Herald: Arlington, Palatine roadwork leaves brown muck on cars