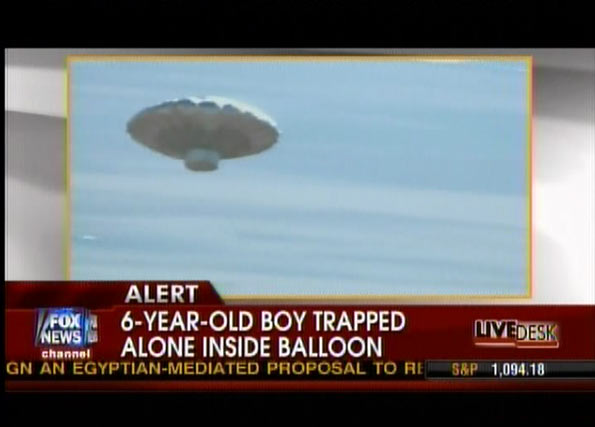 ALERT from FOXNEWS showing balloon aircraft that looked like a giant Jiffy Pop.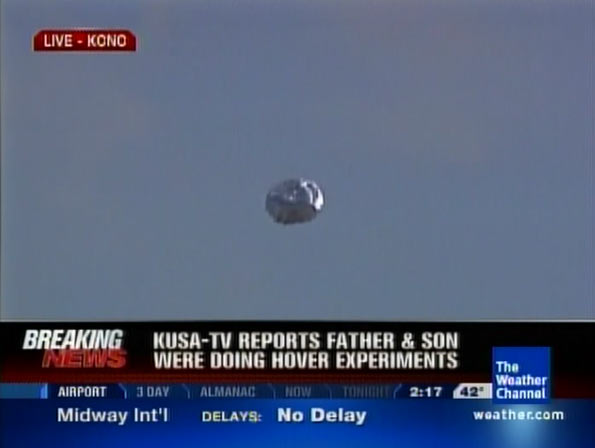 Breaking news from THE WEATHER CHANNEL.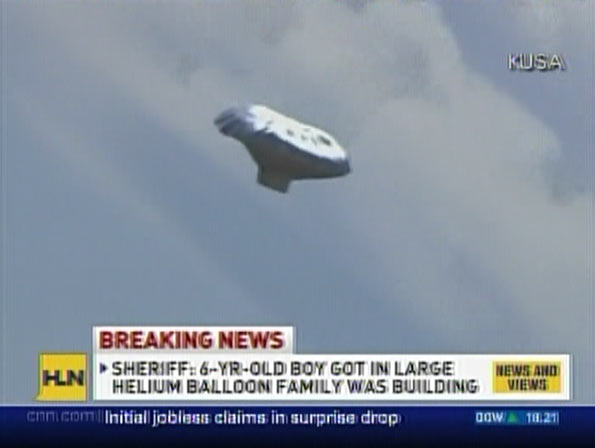 CNN Headline News Breaking News report.
BALLOON BOY FOUND.
UPDATE 5:14 PM CDT: Falcon Heene found hiding in a box in the attic at his home.
UPDATE 3:35 PM CDT: Two accounts of something possibly falling out of the balloon immediately after takeoff.
UPDATE 2:26 PM CDT: Balloon on the ground south of Prospect Springs (Colorado Springs) after a slow crash landing at 2:26 p.m. CDT. Rescue workers attempting access to the aircraft and searching for the boy. Report out that the boy is not inside. The balloon is empty. Search is on for missing boy.
UPDATE 2:30 PM CDT: May be as low as 500 feet and floating near high tension power lines at 2:30 p.m. CDT. Southeast Weld Fire Protection District rescue ambulance and rescue teams waiting below.
Who is the family with the Runaway Balloon? Find out from ABC wifeswapping website …
When the Heene family aren't chasing storms, they devote their time to scientific experiments that include looking for extraterrestrials and building a research-gathering flying saucer to send into the eye of the storm.
Family portrait below …
The Headline as news broke …
Unbelievable! 6-Year-Old Boy May Be Floating in Runaway Balloon from Fort Collins, Colorado
Authorities are chasing a balloon in the skies Thursday about 1:45 p.m. CDT for a 6-year-old boy, Falcon Heene, who unhooked his family's experimental balloon-powered aircraft and floated away from his home in Fort Collins, Colorado.
The balloon aircraft is approximately 20 feet by 5 feet and covered in tin foil and almost looks like a chef's cap. The balloon had the potential to rise to 10,000 feet. The balloon was estimated to be traveling at an altitude of 8,500 feet and was several miles north of Denver, Colorado at 2:00 p.m. CDT, traveling in a southeasterly direction.
Ground temperature in Colorado area at the time of the balloon flight was 60 to 64°F. At 7000 ft air temperature is below freezing in the area. Generally the temperature drops 3.5°F for every 10000 feet gain in altitude.
Denver International Airport cleared air space north of the airport. NORAD was aware of situation and was monitoring.
The Colorado national guard prepared a black helicopter for rescue or resolution.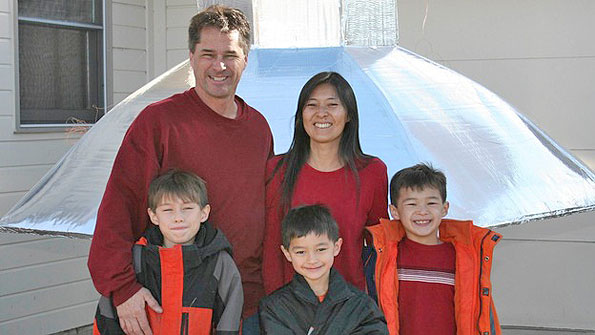 Heene Family Picture from ABC TV show wifeswap. Link to Heene/Silver family portrait picture with an aluminum-like craft in the background.

View Famous Rescues & FD Operations Worldwide in a larger map (Map of balloon path from Fort Collins).
Balloon Origin: 5434 Fossile Ridge Drive Fort Collins, Colorado
Balloon Landing Zone: Near Weld County Road 2 and Weld County Road 63
Two closest towns are Hudson, Colorado and Keenesburg, Colorado
Windsor, Johnstown, Miliken, Greeley, Platteville, Gilcrest, Harmony near balloon flight path.
Check local sources …
Greeley Colorado The Tribune — greeleytribune.com
Fort Collins — The Coloradoan — coloradoan.com
KDVR FOX 31