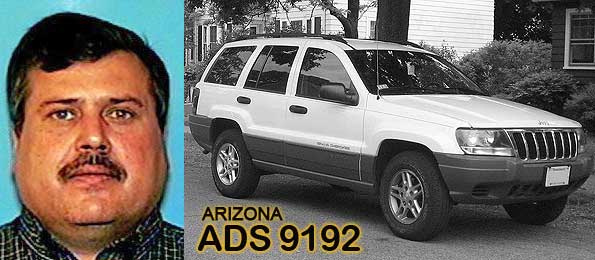 Suspect Faleh Hassan Almaleki, 48, and vehicle Gray or Silver Jeep Grand Cherokee
MANHUNT
Peoria, Arizona police officers suspect that Faleh Hassan Almaleki ran over his daughter in the parking lot of the Department of Economic Security office near 91st Street and Peoria Avenue about 2:00 p.m. on Tuesday, October 20, 2009.
Faleh Hassan Almaleki, 48, is suspected of running down his daughter and her friend in a gray or silver 2000 Jeep Grand Cherokee with Arizona license plate ADS 9192. The suspect is know to live in Glendale, Arizona and was reported to have threatened his daughter because she was not living according to traditional Iraqi values.
The two women hit by the vehicle are the suspect's daughter, Noor Faleh Almaleki, 20, who was reported to have life-threatening injuries, and Amal Edan Khalaf, 43, her friend who had injuries that were not life-threatening.
Citizens with information is asked to call Silent Witness or the Peoria Police Tip Line at 623-773-7045.

View Chicagoland and Worldwide Crime Notebook Map in a larger map
Preventing an honor killing? Teen converts from Islam to Christianity … Worrys Her Family Might Kill Her
See the FOXNEWS video report (below) about Fathima Rifqa Bary — an American teenager of Sri Lankan descent who ran away from home and claimed that her Muslim parents might kill her for converting to Christianity … See also her interview with Florida Department of Law Enforcement RIFQA BARY'S INTERVIEW WITH FLORIDA LAW ENFORCEMENT on Atlas Shrugs (atlasshrugs.com).

FOXNEWS report on Rifqa Bara Hearing.