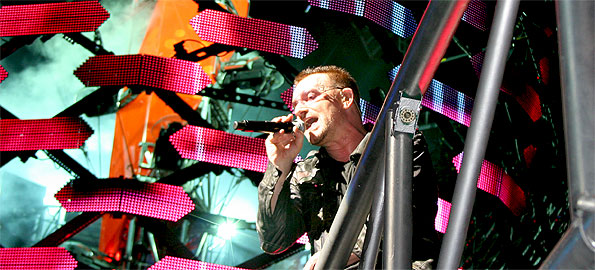 Bono on the walkway over the crown at the U2 360° Tour at Soldier Field — Saturday Sept. 12, 2009.
OPENING THE NORTH AMERICAN TOUR
Flawless concert by U2. Awesome stage with spacecraft, knicknamed 'The Claw' looks at home at spacecraft-looking Soldier Field — or maybe spacecraft base for U2. Can't help but think — when you're standing on the floor — 'What if you woke up one morning, and this thing was perched over your house?' People in the upper seats have an awesome view, especially if you're in the East or South decks with views of the beautiful skyline along Michigan Avenue and north of Millennium Park. 'We Irish like to think we played a part in building this majestic skyline,' Bono told the crowd.
The bass sounds will move the hairs on your legs (if you're wearing shorts or a skirt 'huh?'). Otherwise the music is loud, of course, but not too loud. More U2 360 Tour review below the song list …
Concert Song List at Soldier Field 360° Tour (get the U2 songs mp3 from the playlist above) …
Breathe
No Line On The Horizon
Get On Your Boots
Magnificent
Beautiful Day
Elevation
I Still Haven't Found What I'm Looking For
Stuck In A Moment (You Can't Get Out Of)
Unknown Caller (nice job with video/text on overhead 'Password, you enter here, right now')
Unforgettable Fire
City of Blinding Lights
Vertigo
I'll Go Crazy If I Don't Go Crazy Tonight (Remix)
Sunday Bloody Sunday
Pride (In The Name of Love)
MLK
Walk On
Where The Streets Have No Name
One
Bad
——–
Ultra Violet (Light My Way)
With Or Without You
Moment of Surrender
Bono is a sincere entertainer full of a peaceful, yet aggressive energy — partly why he is so cool.
'Let me introduce my colleagues, on sky scraping guitar, the man who makes Dr Spock look like Dr Ruth, The Edge. On bass guitar, the man who from an early age knew four strings are better than six, the elegant Adam Clayton. On drums, the thunder and lighting of the band, Larry Mullen Jnr – and when he smiles the sun comes out..'
Bono (born 10 May 1960) KBE (British Knight Commander), is the Irish singer and musician, best known for being the main vocalist of the Dublin-based rock band U2. Bono was born Paul David Hewson, and raised in Dublin, Ireland, and attended Mount Temple Comprehensive School.
The visual effects are the best ever. No pyrotechnics, but awesome, well futuristic machinery and video production with the live music. Be ready to lift your lit (open) cellphone overhead (not your lighter) for a 'Milky Way' effect across the friendly confines of Chicago Bear's Soldier Field. The stage. The video. The Claw. The Milky Way. It's kind of hypnotic. If Bono were a cult leader, most everyone in Soldier Field would have joined the cult. See the next picture below.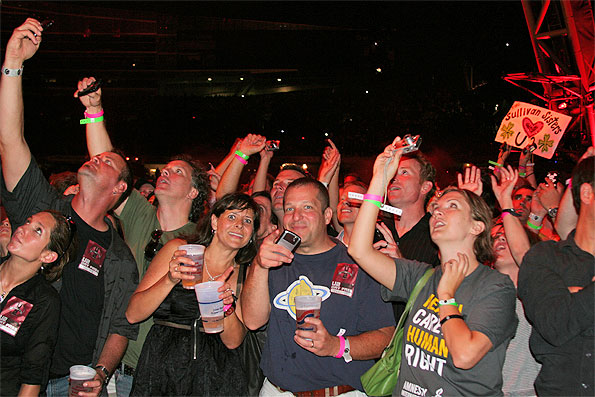 U2 fans getting the best pics while Bono sings on a walkway directly overhead.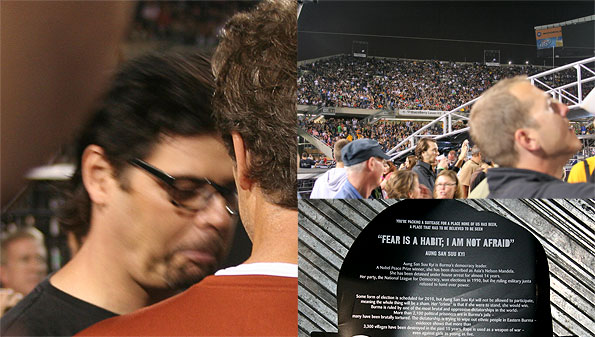 Mancow Muller and crowd before the concert — likely anticipating a great show. Inset, lower, right, is the back of a face mask — a tribute to AUNG SAN SUU KYI (see USA: uscampaignforburma.org … Canada: cfob.org … Global: facebook.com/aungsansuukyi)
U2 plays a second show on Sunday, September 13, 2009 at 8 p.m. at Soldier Field.
What songs did U2 play at Soldier Field?
Hear them in the amazonmp3 playlist, above.
See also …
U2.com
A worthy cause for ending extreme poverty …
ONE — The One Campaign — one.org
The ONE Campaign is a U.S.-based, nonpartisan, non-profit organization which aims to increase United States government funding for and effectiveness of international aid programs.
ONE was originally founded by a coalition of 11 non-profit humanitarian and advocacy organizations — including DATA, World Vision, Oxfam America, and Bread for the World — with funding from the Bill & Melinda Gates Foundation. In 2007, ONE announced that it would be merging with DATA.