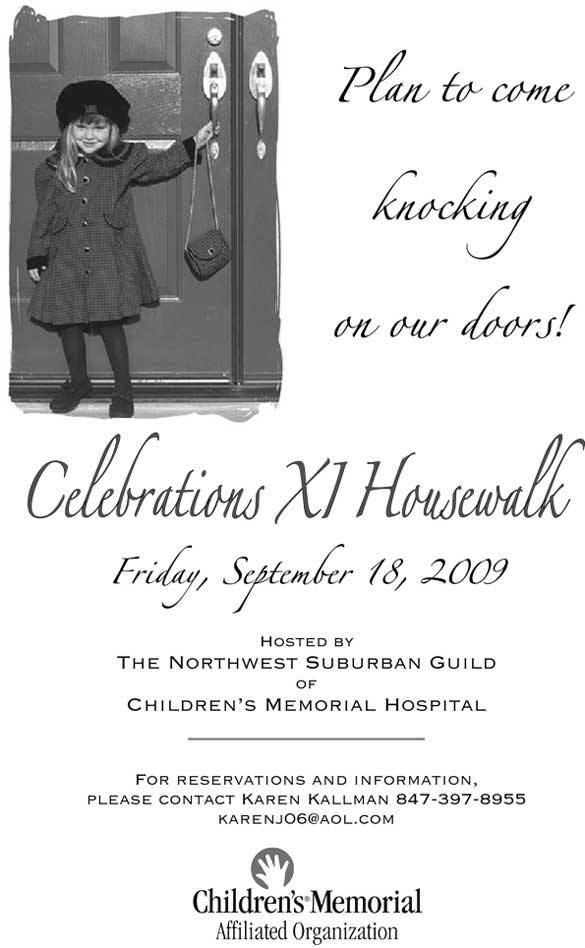 Three professionally-decorated private estates, a historic landmark Queen Anne style home, and Honquest Furniture for Living are featured in a housewalk on September 18, 2009, known as Celebration XI. The starting point for the housewalk is Honquest Furniture., 1455 South Barrington Road. Hours for the housewalk are 9:30 a.m. until 5:00 p.m.
All profits from Celebrations XI will benefit the Family Services Department of Children's Memorial Hospital.
Children's Memorial Department of Family Services is at the heart of the Guild's commitment to family-centered care.

The programs and services encompassed by Family Services are dedicated to encouraging the emotional, psychological and spiritual health of patients and families.
When a child is hospitalized, it can be a stressful experience for the entire family. Recognizing this, Children's has created a soothing place, the Janice and Kimberly Brown Family Life Center, within the hospital where children – and their families- can feel at home and at ease during their stay. The Brown Family Life Center was designed to promote healing, discovery, and the healthy development of inpatients and their families through support, play, and education. Home to many of the hospital's Child Life activities, the center also features toys, games, videos, and computers. Colorful, curved walls, comfortable chairs, a central skylight and a lively aquarium all lend a playful-yet-relaxing environment for the entire family.
Your support will also enable the Hematology/Oncology Art Therapist to continue leading a variety of daily art activities to compliment the medical care of patients and families treated in the hematology, oncology and stem cell transplantation unit and the brain tumor center.
Though the activities may seem modest – drawing a picture with a child at her bedside, coordinating a group craft project to celebrate and upcoming holiday, helping a youngster create a personalized piece of art to celebrate the completion of treatment can make a world of difference to sick children by offering comfort and helping them find the strength to cope.
For youngsters who may be reluctant to talk about their illness, art therapy is an especially effective tool through which they can express their feelings and bring order to a confusing and stressful time. Children can find the reassurance to be themselves in the often-chaotic hospital environment. Art making also encourages socialization, self-expression, communication and motor development. Furthermore, studies have demonstrated that art therapy helps kids and their families cope with the apprehension of upcoming procedures and better manage their treatment and hospital stay.
Children's Memorial continually demonstrates the value it places on care for the whole family.
For information about Children's Memorial Hospital …
childrensmemorial.org