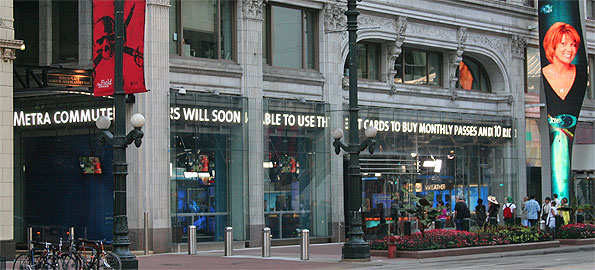 Metra commuter rail news promoted on Channel 7's WLS-TV news ticker outside the studio.
A new metrarail.com website arrives Wednesday, September 9, 2009 with several major enhancements.
The features and enhancements include …
Ticket-by-Internet
Fare Calculator
Interactive Maps
Station-to-Station Schedules
Service Updates
With the My Metra account, you can …
Manage your online Metra account including personal and billing information for ticket orders
View ticket order history
Use your credit card to purchase your 10-ride or monthly tickets online
Create a customized view of your line and train schedule
Set up personalized e-mail alerts for your service updates
Credit Cards Accepted …
Visa, MasterCard, American Express and Discover cards are all accepted. Debit cards accepted with a Visa or MasterCard logo.
Quick Ticket Delivery.
When you order tickets online, they are mailed within three business days. Monthly ticket orders must be placed by the 24th of the previous month to guarantee delivery by the 1st of the month.
Credit Cards at the Train Stations …
March of 2010, you'll be able to buy tickets with your credit card at stations where ticket agents are on duty and at vending machines at key Metra Electric stations. Watch for announcements.
See metrarail.com for more info …