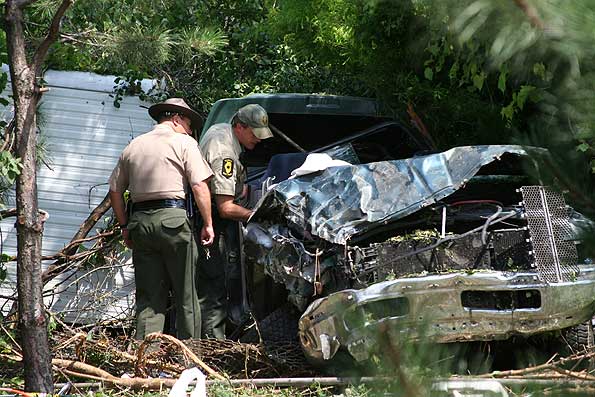 Illinois State Troopers examine the wreckage of a pickup truck and trailer after recovery of the driver's body from the vehicle.
Elk Grove Fire Department and Itasca Fire Department responded to a one-vehicle accident on southbound Interstate 290 just before 1:00 p.m. Thursday. The accident was originally thought to be two vehicles, but as firefighter/paramedics parked on the shoulder of Interstate 290 and rushed through thick brush off the interstate, they found one pickup truck heavily damaged. The truck was also hauling a trailer with furniture enclosed. Inside was a man in his 50's or 60's who was in cardiac arrest. The victim was later identified as Charles A. Hinesley, 69, of Collierville, Tennessee.
Elk Grove firefighters instructed other responding units to respond to the scene from Huntington Drive and Hawthorne Lane, where the end result of the crash was more accessible from an Elk Grove Public Works driveway under an Elk Grove Village water tower.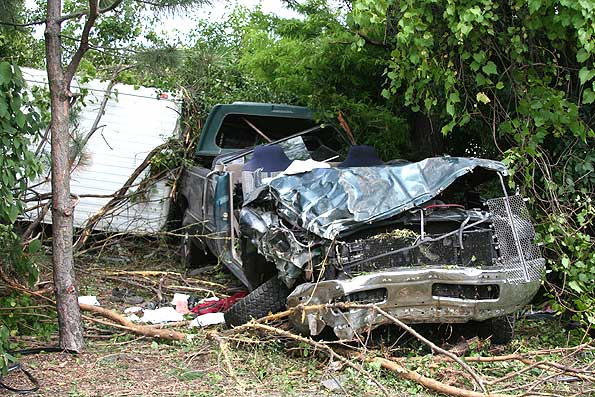 Wrecked pickup truck with bed cap popped off and cab roof removed after extrication.
Firefighters had to use power saws to cut thick brush away from the vehicle to access the driver of the car. They also used extrication equipment to remove the cab roof of the pickup truck. After assessing the scene, paramedics and firefighters determined that the operation was a victim recovery and no longer a victim rescue.
A police investigation is underway by Illinois State Troopers, and an autopsy should determine if a medical condition caused the accident. Witnesses, who helped firefighters find the vehicle, explained that the pickup truck crossed several lanes, hit no other vehicles, but hit a light pole before leaving the roadway. A doctor and an off-duty paramedic were on the scene in the thick brush before emergency crews arrived.

View Arlingtoncardinal.net/fireblog in a larger map