Arlington Heights police received a report about 11:45 a.m. of a poster of President Barack Obama with a racist statement attached to a lamp post at the corner of Schaefer Road and Kingsley Drive. The intersection is near Lake Terramere, Nichols Knoll and Nichols Golf Course. Information not available whether this was the Obama 'Joker' image (see below) or another image.


View Arlington Heights Crime Blog 6/20/2009 to 6/19/2010 in a larger map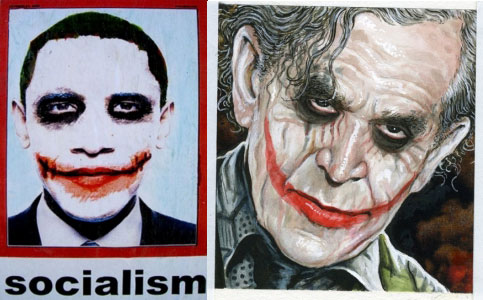 Photos: Obama 'Joker' poster circulating on the streets and via the Internet in July/August 2009 (left), and Bush 'Joker' caricature entitled 'No Joke' that appeared in Vanity Fair July 29, 2008 George W. Bush: Comic-Book Villain?.
What's happening with the Obama Joker Poster nationwide? Check the newsfeed …

Subscribe to RSS headline updates from:
Powered by FeedBurner
Are there Obama Joker Posters in the Chicago area?
One blogger claims it actually originated in Chicago: Mystery Obama/Joker Poster Appears in L.A.
The original Joker/Obama image (see below) was apparently created by Firas Khateeb, a student living in Chicago. However, whoever adapted it as a poster and added the legend, "socialism," is still a mystery.

— Jonathan Jerald, Editor Bedlam Magazine
Jerald provides a link to Khateeb's flickr.com (flickr.com/photos/khateeb88), but there's no evidence of the Obama-Joker photoshop mash. Not anymore anyway.