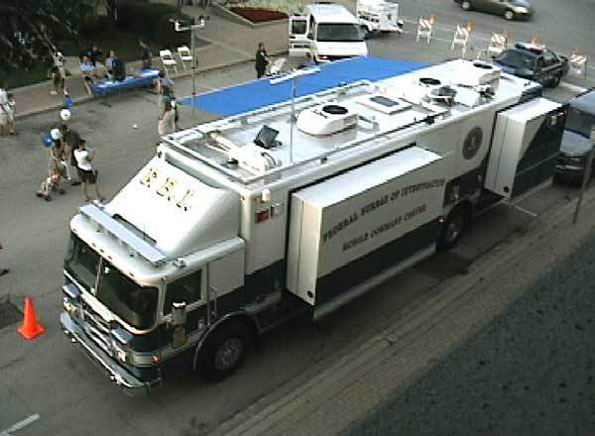 FBI Command Truck parked on Eastman Street at National Night Out last year.
Join in a community partnership with the Police Department by participating in National Night Out held on Tuesday, August 4, from 5:30 p.m. – 8:30 p.m. in North School Park, at Arlington Heights Road and Eastman Street.
The event, co-sponsored by the Arlington Heights Park District, includes demonstrations and activities that help heighten awareness of anticrime efforts and also help educate the public on the many facets of police work. The National Association of Town Watch and Target Stores sponsor this event nationally.
National Night Out in the Village of Arlington Heights has received national recognition for the past four years and the plan is to make the event even bigger and better this year. Arlington Heights has invited citizens to a night out with the local Police Department, Fire Department and all agencies that support anticrime efforts.

The following agencies, departments and units are scheduled for the event:
Illinois CHIP Program sponsored by the Illinois Masons will provide parents with a free disc containing their child's fingerprints, photograph and voice sample. A DNA sample can also be requested.
The Arlington Heights Police Department K-9 unit will conduct a full demonstration which includes bite and drug work.
The Arlington Heights Fire Department will conduct a repelling rescue demonstration from a ladder truck.
The Cook County Sheriff's Bomb Squad will display their equipment which may include an isolation chamber and robot.
The Arlington Heights Police Department Traffic Unit will demonstrate their motorcycle skills.
The American Red Cross is displaying their disaster command post vehicle.
Union Pacific Railroad will have a display.
The United States Army will be bringing four demonstration units where people can play Guitar Hero against Army personnel, shoot a simulated anti-tank missile, operate a specialized robot or get a dog tag with their information on it.
The Arlington Heights Park District will provide free beverages and food items, children's games, business expo and other fun activities.
There will be much more than what was listed above. For additional information contact Officer Doug Hajek at 847-368-5330 or [email protected], or Laura Oberg at the Park District, 847-506-7872.

View Arlington Heights Crime Blog 6/20/2009 to 6/19/2010 in a larger map