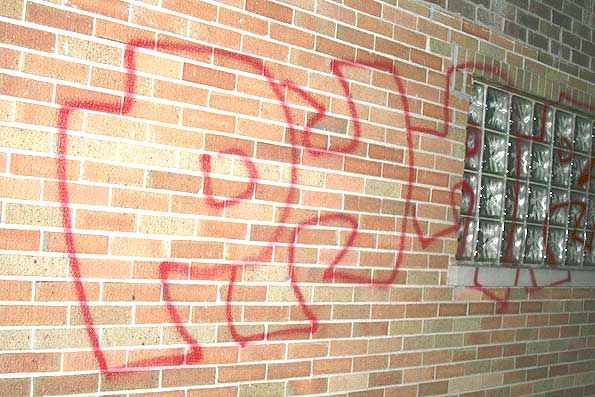 Graffiti on the east wall of vacant house at Hintz Road and Haddow Avenue.
Arlington Heights police received a report just after 12:00 p.m. Saturday of gang graffiti painted on a vacant house on Hintz Road near Haddow Avenue. The house is a two-story new construction on a lot that recently consisted of a one-story ranch home.
It is unknown how Arlington Heights handles gang graffiti on private property. Developing …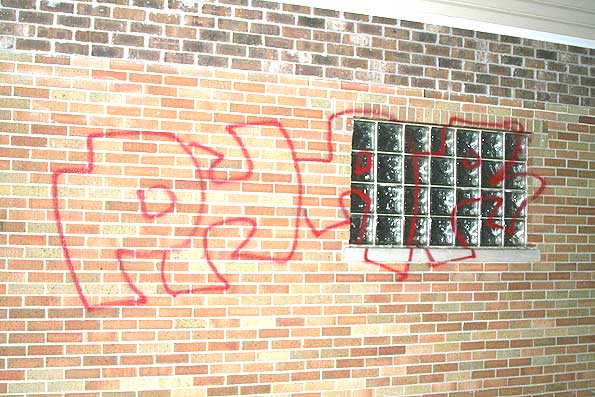 Graffiti at vacant house under construction at the northeast corner of Hintz Road and Haddow Avenue.
The City of Chicago has Graffiti Blasters is a program to eliminate graffiti, street art and gang-related vandalism within the Chicago city limits. The program is structured as a privately owned business based in the city government. Graffiti Blasters uses soluble abrasives (baking soda combined with high pressure water) and paints matching the city's official color scheme to erase all varieties of graffiti. Graffiti Blasters promises free cleanup within 24 hours of a phone call to 3-1-1. Prior to the program's inception, the city considered itself responsible only for graffiti removal off of city property — private property owners had to shoulder the cleanup costs for graffiti on their own property.
According to the City of Chicago web page for Graffiti Blasters, in 2009 Graffiti Blasters is celebrating its 15th anniversary and has cleaned more than 1.6 million instances of graffiti vandalism. It has become one of the most popular municipal services offered by the City of Chicago, and a role model for other cities.

View Arlington Heights Crime Blog 6/20/2009 to 6/19/2010 in a larger map