Matt Jones photo (left) and mug shot of Brian Ruiz.
AUG 19 2009 — Chicago Fire Department rookie Matt Jones, 24, suffered a fractured trachea, broken nose, facial bone fractures, a dislocated clavicle (collar bone), and a cervical spine fracture as a result of a bar brawl that occurred between 3 a.m. and 4 a.m. as he was leaving the Beaumont Bar and Grill, 2020 N. Halsted Street.
View Larger Map
Google Street View of the Beaumont Bar and Grill 2020 North Halsted Street where fighting words started.
Chicago Police witnessed Brian Ruiz, 20, stomp on Jone's face twice, walk away and turn back to kick him in the face, and then flee, near Halsted Street and Dickens Avenue. Police immediately arrested Ruiz, who is held $300,000 bond.
View Larger Map
Google Street View at Dickens and Halsted, looking down toward the direction of the Beaumont Bar and Grill, a Nine West, and a MetroPark store in the Lincoln Park neighborhood.
Andrew Jester, attorney for Brian Ruiz, made a statement that claimed that Ruiz was taunted and approached by Jones, who also took off his shirt and taunted Ruiz to fight. The attorney further claimed that Ruiz put out his hand as a peaceful gesture, but that Jones then spit on Ruiz.
Jones condition was upgraded from critical to serious on Thursday at Advocate Illinois Masonic Medical Center. The attack is not considered to be connected to recent muggings in the Lincoln Park neighborhood.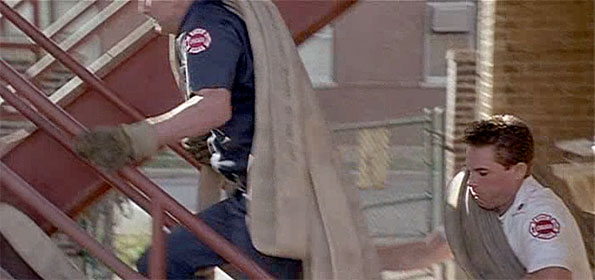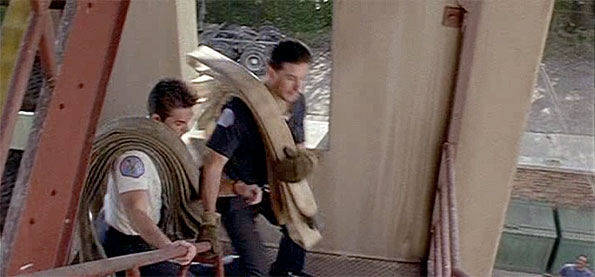 Up the fire escape staircase in the motion picture Backdraft: Lt. Stephen "Bull" McCaffrey (Kurt Russell, white shirt), the elder brother, races his younger brother Brian (William Baldwin) in spontaneous drill and competition — similar to the drill that Matt Jones perfected as a Chicago Fire Department candidate.
Matt Jones is a Chicago Fire Department firefighter assigned to Engine 19 at 35th and Calumet in Bronzeville. He graduated from the fire academy on February 1, 2009, winning the 'top physical achiever' award in his class. He beat by 11 seconds the best time for a drill involving running a hose pack up a fire escape, across a roof and back down again.
Jones graduated from Marist High School, and was a wrestler — earning third place in the Illinois High School state tournament and weighing in at 152 pounds.
Matt Jones is also a personal trainer at LIFETIME FITNESS in Orland Park, part of a national chain of large-scale fitness facilities.
Brian Ruiz is a community college student of business and architecture. He recently received court supervision for a DUI in Lake Forest. He was accompanied at the crime scene by Daniel Vanoni, 20, of 6200 W. Berenice, who was charged with two misdemeanors — displaying another person's identification and underage drinking.

View Chicagoland and Worldwide Crime Notebook Map in a larger map
Map of the neighborhood of the Beaumont Bar and Grill.