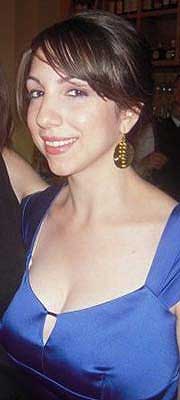 Robin Katz
"Rocket scientist by day, party fool by night"
— her Myspace page
1. In May 2009, Robin Katz, former Chase Bank investment adviser tells her bosses at Chase Midtown headquarters that she has a family emergency back home in California.
2. In June 2009, wealthy bank client of Chase Bank reports about $110,000 missing from seven-figure account.
3. In July 2009, auditors initially determined that an extra ATM card in the bank customer's name had been created about a year earlier and used dozens of times starting in June 2008 to withdraw cash out of the account.
4. Last week bank tells Katz she better come back to work or the Feds are going to come find her.
5. Last week, the long arm of the law welcomes her back to New York. She's held on $50,000 bail at Riker's Island.
6. Charged with grand Larceny in the Second Degree (1 count) and Identity Theft in the First Degree (1 count)
On MySpace …
Her interests: "Politics: F– Bush. Sex: F– Me."