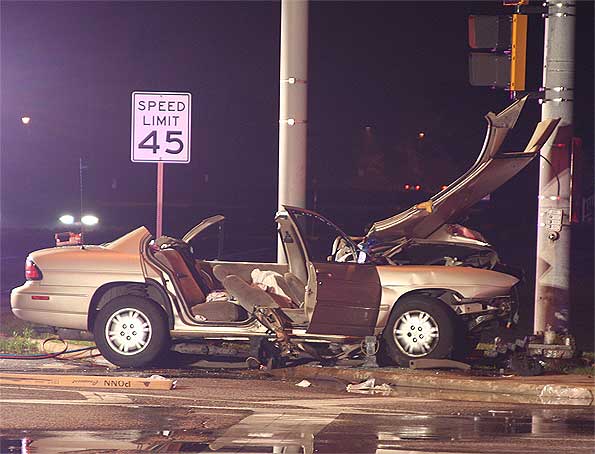 Wrecked car at the southeast corner of Palatine Road and Kennicott Drive early Wednesday morning.
Arlington Heights police and firefighters responded to a crash with people trapped just after 3:30 a.m. Wednesday at Palatine Road and Kennicott Drive. Rescuers were on the scene quickly, but the extrication operation was about 45 minutes — required to safely remove victims that were trapped by the car wreckage. Firefighter/paramedics had to peel back the roof of the gold Chevrolet Lumina and use extrication rescue tools to rescue the victims from the 4-door sedan. The last victim rescued and removed from the vehicle wreck at about 4:20 a.m. was the driver Carmela Harding, 29.
A Palatine Fire Department paramedic ambulance crew assisted two Arlington Heights Fire Department paramedic ambulance crews and the rescue squad in the extrication accident. A fire engine crew stood by for fire suppression, if needed and assisted the paramedic crews.
Three people were transported to area hospitals as a result of the one-car accident that involved an overhead stoplight pole. Two people — a male, 38, and a female, 30 — were transported to Northwest Community Hospital. The last person freed from the car was transported to Advocate Lutheran General Hospital Level One Trauma Center.
The accident was under investigation for possible DUI, but police have determined that Carmela Harding was not intoxicated. Harding was charged with driving too fast for conditions.

Video at accident scene early Wednesday morning at Palatine Road and Kennicott Drive.