Video of fire department operations for house fire in the 700 block of Burning Tree Lane Tuesday night.
Arlington Heights Fire Department received a call for help for a house fire at about 9:15 p.m. Tuesday in the 700 block of West Burning Tree after a resident saw large flames in the basement of the house. The fire apparently started in the basement and extended up to the first floor, especially toward the back of the house.
Firefighters were able to knock down the fire within about five minutes, but smoke persisted for at least one-half hour. Firefighters used a special camera to detect heat behind walls and locate hidden fire. After the fire was declared 'out,' smoke persisted. The house was ventilated with fans and open windows. The process helps clear the air when a fire is out, and helps show the fire when it is difficult to find. Firefighters also pulled on ceiling and wall drywall with pike poles to look for hidden fire. The fire was severe enough to cause instability of the kitchen floor.
Buffalo Grove Fire Department, Long Grove Fire Department and Palatine Fire Department were called in for mutual aid for the Arlington Heights house fire.
Many neighbors came out to help their fire victim neighbors and watch the fire department operations.
View Larger Google Street View
View
2007-09 Arlington Heights Fire/Rescue Operations
in a larger map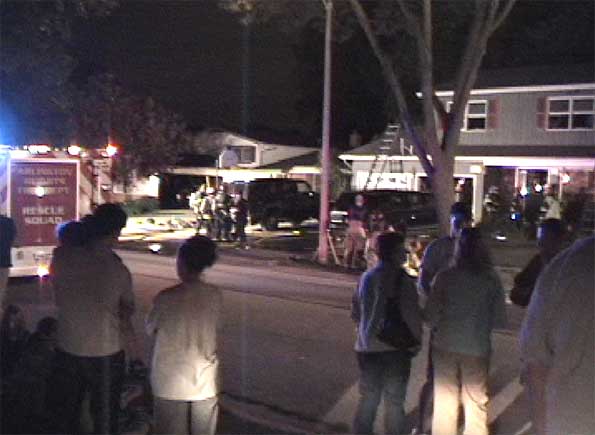 House fire in the 700 block of Burning Tree Lane Tuesday night.