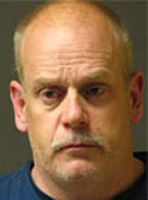 Ronald O'Rourke
The second fatal stabbing and third homicide in Hanover Park last weekend was apparently related to a home invasion at a house near County Farm Road and Lawrence Avenue in Hanover Park. The house at 6N247 County Farm Road sits on a one-acre lot South of Stearns Road near a pet cemetery. The location is just west of Mallard Lake Forest Preserve.
Ronald O'Rourke, 46, of Crystal Lake was charged with one count each of first-degree murder, home invasion and residential burglary. Described by prosecutors as a "lifelong crack addict" burglarizing a home to finance his addiction, O'Rourke attacked Pamela Howat as she returned to her home from grocery shopping. Pamela Howat's son found her body around 6:00 p.m. with nine or 10 stab wounds to her neck and face. She had been laying dead on her bags of groceries for several hours before she was discovered. Police had withheld the name of the victim until today, but The Daily Herald reported Monday that a relative, who lives in Arlington Heights had identified the victim as Pamela Howat, 51, her aunt.
The DuPage County Major Crimes Task force is investigating.

View Chicagoland and Worldwide Crime Notebook Map in a larger map