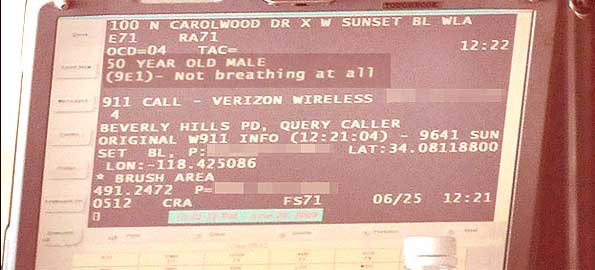 Michael Jackson's rescue call. 9-1-1 call screen on a Mobile Data Terminal (MDT) in an emergency vehicle at 100 North Carolwood Drive.
Los Angeles Fire Department received a rescue call for a 50 year-old man not breathing at 12:21 PT on Thursday, June 25, 2009. When the paramedic crew in LAFD Ambulance 71 arrived, they found Michael Jackson in cardiac arrest and began advanced life support, including CPR, for more than 40 minutes at the scene. Michael Jackson's airway was intubated and was being ventilated with a bag mask when he was seen in the open between the rescue ambulance and buildings during the transportation phase to the hospital. Jackson's personal physician was also at his rented home working as part of the on-scene resuscitation team.
AUDIO: 9-1-1 Call for Help for Michael Jackson (June 25, 2009 12:21:04 PT) …
(Address and telephone number is omitted from the audio for privacy)
9-1-1 TRANSCRIPT AND HINTS OF PHYSICIAN INCOMPETENCE AT THE SCENE …
The 9-1-1 caller reveals that the doctor was on the scene at the time of the 9-1-1 call and that CPR was being performed on 'a 50 year-old male.' The caller also stated that CPR was being performed on the bed. The 9-1-1 call taker instructs the people at the scene to move the man to the floor. He offered these instructions because a mattress reduces the effectiveness of the chest compressions during CPR. The 9-1-1 call taker also tries to find out if the presumed cardiac arrest was witnessed, which means "were people present when cardiac failure occurred, and did they note the time of the 'cardiac arrest' event." That information is communicated from the 9-1-1 center to the responding rescue ambulance and paramedics. The people at the scene were not cooperative with providing the information regarding 'witnessed cardiac arrest.' It is assumed that the on-scene physician was agitated with the questions that were being asked by the 9-1-1 call taker.
A photographer caught a picture of a Mobile Data Terminal (MDT) and shows that LAFD Engine 71 and Rescue Ambulance 71 from Los Angeles Fire Department Fire Station 71 were assigned to the call at 100 North Carolwood Drive at 12:21:04. The display shows the nearest cross street is West Sunset Boulevard. The latitude and longitude of the address plot is also displayed on the MDT as 34.08118800, -118.425086.


Michael Jackson intubated on stretcher (photo broke on etonline.com). Video ambulance backup …
Michael Jackson was transported to Ronald Reagan UCLA Medical Center and arrived at 1:14 p.m. A medical team, including emergency physicians and cardiologists, worked to resuscitate Michael Jackson for another hour before he was finally pronounced dead at 2:26 p.m.

View Strange World in a larger map
Satellite image map of rented mansion where Michael Jackson died (34.08118800, -118.425086 or 100 North Carolwood, Bel-Air/Los Angeles).
View Larger Map
Route from LAFD Fire Station 71 [Marker A] at 107 South Beverly Glen Boulevard to 100 North Carolwood Drive [Marker B] is .9 mile (unknown if crews were in the fire station or on the street at the time of dispatch).

View Larger Map
Google street view showing a side view off Monvale Drive of the mansion in Bel-Air where Michael Jackson died.

Michael Joseph Jackson was born in Gary, Indiana (an industrial suburb of Chicago, Illinois) to a working-class family on August 29, 1958. The Jackson 5 (started in 1964) recorded several songs, including "Big Boy", for the local record label Steeltown in 1967 and signed with Motown Records in 1968. Michael Jackson began a solo career in 1971 while still a member of the group. Referred to as the "King of Pop" in subsequent years, five of his solo studio albums are among the world's best-selling records: Off the Wall (1979), Thriller (1982), Bad (1987), Dangerous (1991) and HIStory (1995). As of today, Thriller (over 65,000,000 sold) is the best-selling record of all time; and, Michael Jackson is the only artist to be inducted into the Rock-n-Roll of Fame twice. Michael Jackson received a record 13 Grammys and reached #1 with a record 13 hit singles.
More info …
Michael Jackson — Wikipedia
Los Angeles Fire Department Station 71 — Historical Archive
100 North Carolwood Drive Mansion Estate Information where Michael Jackson paid $100,000 per month for rent …
Who owns 100 N Carolwood Drive, Los Angeles-Bel Air, California?
Hubert A Guez (Trustee), Guez (Trustee) (Living Trust) and Roxanne M Guez — BlockShopper Los Angeles
How much is 100 North Carolwood Drive worth? (or at least how much did it last sell for?)
$18,500,000 on January 16, 2004
Video Coverage …
Hollywood.tv
RandomTV.com