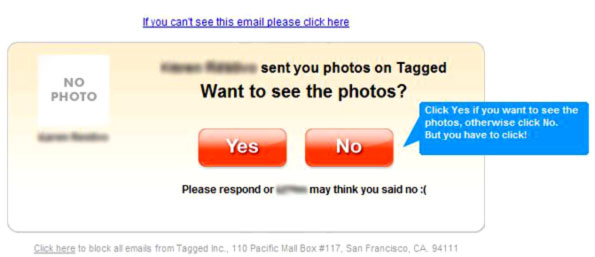 I think I have a virus! Are you thinking this? My friends are getting e-mails about photos or friends on "Tagged" from me that I did not send. Are you frustrated by this? Have you received an email that looks like the image above? Have your friends told you that you have a virus and sending out spam from your e-mail account?
You can probably relax. You probably don't have a virus, but probably have been phished.
Tagged.com is a social networking site that has had numerous consumer complaints lodged against it for its spam e-mail practices, and is regarded as a phishing and spamming site by consumer anti-fraud advocates. Tagged provides a feature whereby users are invited to provide it with their email username and password, and it will then check their email address books for contacts. Tagged uses email address books to repeatedly send email invites to people who are not yet on Tagged, claiming that they have been "added as a friend" or had photos of them tagged. Obviously, the methods of Tagged.com have met some criticism in the technology press and from aggravated users.
Here's what might happen if you click on a link from Tagged.com and provide them with an email user name and address.
The Tagged.com automated system will find all the contacts in your address book and begin sending your contacts automated messages that look similar to the image at the top of this article.
You would first know of your trouble when friends begin telling that you might have a virus. Or they might be angry that you gave another company their email address.
Tagged.com sometimes re-emails your contacts for about three days.
Tagged was co-founded by Harvard graduates and entrepreneurs Greg Tseng and Johann Schleier-Smith and launched in October 2004. So far they are still in operation with Tagged.com.
AVOID IT!
More info …
Phishing – The Tagged.com Email Scam …