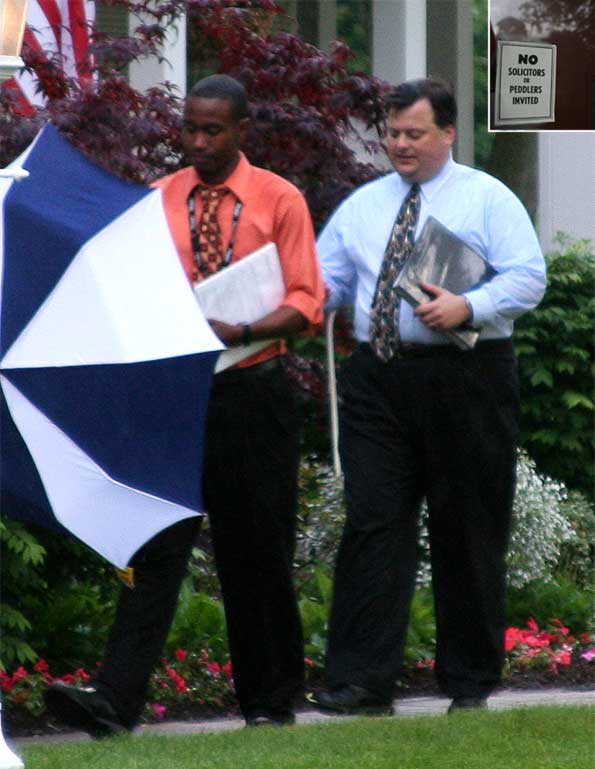 Two solicitors leave a residence in Arlington Heights. These two men may have been legitimate solicitors, but a few houses down they ignored a posted "NO SOLICITORS OR PEDDLERS INVITED" sign.*
Many residents don't appreciate interruptions of their daily life by a knock at the door by a peddler or a solicitor. But some residents have their hearts go out to a sales story about a chance to go to college or other opportunity that is made possible by money gained from the successful sale for a door to door sales person. However, with door to door solicitation there may be much more than what meets the eye.
With certain conditions, peddlers and solicitors are permitted during certain hours in Arlington Heights.

A peddler is any person who goes from place to place and promotes and offers for sale at retail to deliver, barter or exchange any goods, wares, merchandise, wood, oil, fish, fruits, vegetables, country produce or any other article or thing whatsoever or any service from a vehicle or otherwise. A peddler does not include a serviceman who, responding to a prior call comes and sells replacement merchandise.
A solicitor is any person who goes from place to place, without prior appointment or pre-arrangement with a residential or business customer offers merchandise, articles or things, and takes orders for future delivery at retail of any merchandise or other article or thing. A solicitor also promotes, sells and takes orders for any service or charitable purpose.
Permits are required by any person acting as a peddler or a solicitor in Arlington Heights. It is unlawful for individuals to act as a peddler or a solicitor without a permit.
What hours are permitted for solicitors and peddlers to go door to door?
No soliciting or peddling shall be permitted before the hours of 9:00 A.M. or after the hour of 9:00 P.M. within the Village, and no peddling or soliciting shall be conducted on Sundays.

Can people with a criminal history work as a peddler or solicitor?
It is unlawful for any organization to utilize as a solicitor any person who has been convicted of a forcible felony within a period of five years prior to the date of solicitation or who, having been convicted of a forcible felony, has been released from a penal institution for a period of less than three years prior to the date of proposed solicitation. For the purposes of the Village of Arlington Heights ordinance, a "forcible felony" means treason, murder, voluntary manslaughter, aggravated criminal sexual assault, criminal assault, robbery, burglary, arson, kidnapping, aggravated battery, and any other felony which involves the use or threat of physical force or violence against any individual.
Unfortunately many individuals act as peddlers and solicitors without obtaining permits, and some of these individuals are not peddlers or solicitors. They are often criminals with a scam. Often two people will prey on elderly people with one person engaging a conversation with the elderly person while another sneaks in a door to ransack the residence and make off with possessions in the home.
The identity issue
Whenever someone comes to your door, even with an identification card or a solicitor permit displayed, you can't be sure who they are. Even faced with a solicitor with a legal permit, a homeowner cannot be sure that the solicitor or peddler does not have criminal intentions. While standing at your front door there is ample opportunity to assess valuables in a home or judge the wealth that may exist inside. The apparent "legitimate" reason for a peddler or solicitor to be in a neighborhood also gives ample opportunity for strangers to make observations about neighbors' activities, such as whether someone is on vacation or what time they leave for work, etc. Some police departments have even recognized an increase in theft reports when door to door sales crews have passed through a neighborhood. Regular old solo burglars often use the line to police that they are solicitors when they are casing a neighborhood.
Some solicitors are involved with Traveling Sales Crews (many from out of state) that involve abuse of the sales team individuals, theft, DUI and illegal drug use, and even felony criminal behavior.
Aggressive, spam-like behavior
Many citizens have had enough with telemarketers' interruptions on the telephone, and perceive their homes and property as a last refuge for peace and order. It is possible that residents are experiencing an increase in interruptions from door sales crews because more telemarketing firms are limited by DO NOT CALL lists. Unfortunately, many door to door solicitors and peddlers are aggressive. There are reports of many solicitors not displaying permits. Sometimes they ask odd questions or make strange statements. In one report, a solicitor was asked where he was from, since he didn't display a solicitor permit. He answered that he was from his mother. Another solicitor once mentioned that he was in a program to help him be more outgoing and was told to go out and meet the neighbors.
The opportunity for violent crime
Answering your door for a complete stranger is risky behavior. Village of Arlington Heights ordinance permits peddlers and solicitors to come to your door up to the 9:00 p.m. hour. During most months of the year in Arlington Heights, this time period is total darkness. Opening your door to a stranger could result in armed home invasion, assault or worse. Across the United States, criminal cases have involved individuals or groups posing as door to door sales teams that actually commit crimes such as burglary, theft, harassment and assault. Alarming violent crimes, such as rape and murder have also been attributed to people posing as door-to-door sales people, peddlers or solicitors.
Door to Door Sales Tactics
Solicitors often sell products, subscriptions, and services that are over-priced, poor quality or non existent.
Solicitors are most successful with vulnerable individuals. They sell the items through aggressive tactics, peer pressure, and deceptive practices. Solicitors are trained to aggressively push the products and services. Solicitors often make a contest out of how many customers say 'no' at first and through aggressive tactics later end up purchasing the product.
Here is list of common tactics solicitors use
• Solicitor introduces himself then quickly begins the sales pitch
• Solicitor does not take 'no' as an answer
• Solicitor tells the customer they will never get this opportunity again
• Solicitor gets upset at the customer if they indicate they want to end the conversation
• Solicitor argues with the customer
• Some solicitors will actually barge in at a door, even trying to "help" unlatch the door
• Some solicitors will ask for a drink of water
• Some solicitors ask to come in the home to use the phone
• Some solicitors ask to come in the home to use the bathroom
• Once inside solicitors continue the sales pitch and are difficult to get out of the residence
• Many solicitors demand that customers make a purchase because the customer has wasted their time
• When a customer says 'no', some solicitors get more aggressive
• Many solicitors lie to the police, if they are called by the homeowner, and will even falsely accuse homeowners of being aggressive with the solicitors
Solicitors also use deceptive practices and peer pressure. Many will show customers a sign up sheet with names of neighbors and/or others in the area that have just purchased a product from them. Solicitors use this method to build trust and put peer pressure on the customer.
The following is a list of common deceptive practices of solicitors:
● No sales tax collected when required
● Charging higher percent sales tax
● No village permits when required (many solicitors will claim they didn't know they needed a permit)
● Not registered as a professional charity
● False claims about the product
● False claims about donating to a charity
● If a subscription is not purchased, solicitors tell customer they can donate to
the solicitors educational fund instead
● Solicitor does not issue a receipt to the customer with the company's actual name and correct information
● Forged documents
• Solicitors produce fake lists of endorsements of neighbors (the neighbors never wrote the endorsements)
How does a door to door sales team operation work?
Many solicitors are from out of state, and some do have criminal records. The sales teams often stay in middle to lower priced hotel rooms with at least two solicitors to a room and sometimes four to a room.
Door to door sales teams often change localities every week. Car handlers take the sales team to a locality and stay nearby while solicitors hit the streets and start ringing doorbells. Some car handlers have been known to provide support for solicitors that includes finding illegal drugs for their use. Solicitors are sometimes left on the street for 16 hours. All money that is earned is kept by a bookkeeper or manager with a minimal allowance given for food — and designed to prevent crew solicitors from having enough money to get back home. In some areas drug use by solicitor crews is very high. In fact drug use and availability of certain types of drugs may be a recruiting tool for some door to door sales crews.
Many solicitor crew individuals will confide in police officers that they want to get out of their situation, but are often afraid of being beaten by managers or are afraid of some other type of retaliation by managers.
Working as a solicitor is a lousy job
Working as a solicitor or a peddler involves a hard lifestyle with long hours and work that can be dangerous. Crew bosses promise many benefits on fliers and utility pole signs near college campuses. The crew bosses often promises a party lifestyle, with travel, prizes, extra money and even scholarships, but once sales people are involved in the job they find they are working a miserable job, scorned and rejected, six days a week with long hours, no benefits and low pay.
Many of the crew bosses operate illegally and assure the sales people that they will take care of matters that involve the police. Most police departments are wary that it is the crew bosses that are often the key to the problem. Some sales staff even end up with criminal records because of the work they performed as a solicitor. Their bosses never backed them up and sometimes even force offenders to miss court dates.
Some communities have set up "no knock" ordinances in response to unlawful activities of solicitor and peddler crews.
For more information and assistance …
magcrew.com
edumacation.com/MagazineSalesScams
travelingsalescrews.info
travelingsalescrews.info: WANTED
SOURCES:
VILLAGE OF ARLINGTON HEIGHTS MUNICIPAL CODE: Chapter 12 Merchants [PDF]
See Article X
Louisville Metro Police Department Patrol Officers Reference Guide to Door to Door Solicitors
* Regarding observance of NO SOLICITORS OR PEDDLERS notice. Article X Section 12-1011 Duty of Solicitors or Peddlers. It shall be the duty of every solicitor or peddler, upon going onto any premises in the Village upon which a residence is located, to look for the notice provided for in this Article, if any is attached, to obey the statement contained on the notice. If the notice contains words such as "NO SOLICITORS OR PEDDLERS", then the solicitor or peddler, whether registered or not, shall immediately and peacefully depart from the premises. Any solicitor or peddler who has gained entrance to any residence, whether invited or not, shall immediately and peacefully depart from the premises when requested to do so by the occupant.
A few days after this photograph was taken, The Cardinal caught up with the black male that was photographed in this report. The man said that he worked for Fast Track Marketing of Lombard, Illinois. He said he wasn't selling anything, but that he was out presenting home remodeling product for Sears. Click here "Fast Track Complaints- Marketing Scam Beware" for a posting from a job applicant who did not like his experience with Fast Track. Fast Track's job classifieds don't specify that they are a door-to-door sales outfit.
Get updates from The Cardinal CRIME BLOG 'Plus' on Facebook. Just 'LIKE' the 'Arlington Cardinal Crime & Forensics' Page (become a fan of our page). The updates cover all posts in the 24/7 Crime Alerts! and sub-categories. See all of The Cardinal Facebook fan pages at Arlingtoncardinal.com/about/facebook …