View Larger Map
Google street view looking North in the 8000 block of Catawba Lane, Hanover Park.

View Chicagoland and Worldwide Crime Notebook Map in a larger map
Approximate site of fatal stabbing in Hanover Park, Saturday June 6, 2009 that occurred when a conflict over uninvited guests at a party turned violent.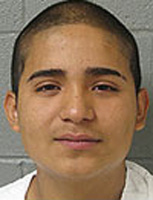 Jahaziel Duron
UPDATE:
Jahaziel Duron, 16, of the 1600 block of Poplar Avenue, charged as adult with first degree murder and attempted first degree murder at a hearing in Rolling Meadows branch court.
Diontae Roberts, 23, was stabbed in the 8000 block of Catawba Lane of Hanover Park and pronounced dead 3:15 a.m. Saturday in Alexius Medical Center in Hoffman Estates. The crime scene is one block east of the Walmart, 850 South Barrington Road in Streamwood.
The man that was fatally stabbed lived in the 1300 block of Kingsbury Drive, Hanover Park. The Major Case Assistance Team (MCAT) was on the scene Saturday.
A Diontae M. Roberts, 20 in 2005, 1314 E. Kingsbury, Hanover Park was on record in Du Page County Circuit Court proceedings in October 2005. Roberts was charged with possession of 2.5-10 grams of marijuana and found guilty. He received 12 months conditional discharge and court costs/fines of $460.